Goal is to investigate radical concepts for 20X increase in MANET size
Troops operating in forward locations without telecommunication infrastructure often rely on a mobile ad hoc network (MANET) to communicate and share data. The communication devices troops use on foot or in vehicles double as nodes on the mobile network. A constraint with current MANETs is they can only scale to around 50 nodes before network services become ineffective. For the past 20 years, researchers have unsuccessfully used Internet-based concepts in attempts to significantly scale MANETs.

DARPA is exploring new technologies unencumbered by Internet Protocols (IP) that could be the key to enabling large MANETs. Although the Internet facilitated far-reaching technical advances, in this technology area the Internet may be the roadblock. The MANET scaling goals will not be satisfied with incremental improvement using existing protocols and concepts. Truly revolutionary ideas will explore new paradigms that allow users to effectively share information unshackled from existing constraints.
"A MANET of a thousand nodes could support an entire battalion without the need for manual network setup, management and maintenance that comes from 'switchboard'-era communications," said Mark Rich, DARPA Program Manager. "This could provide more troops with robust services such as real-time video imagery, enhanced situational awareness and other services that we have not yet imagined."
A Request for Information (RFI) released today calls for research paper abstracts describing bold, new technical approaches to overcoming the MANET scaling problem. DARPA intends to select innovative and promising concepts to be presented as papers at a symposium entitled, "Novel Methods for Information Sharing in Large-Scale Mobile Ad Hoc Networks," Aug. 7-8, 2013, at the DARPA Conference Center. For more information on abstract submission and the symposium, view the RFI here: http://go.usa.gov/TP3z
Featured Product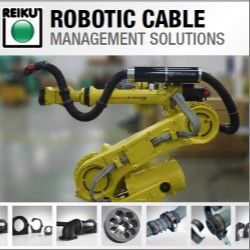 REIKU's Cable Saver™ Solution eliminates downtime, loss of revenue, expensive cable and hose replacement costs, maintenance labour costs. It's available in three sizes 36, 52 and 70 mm. All of the robots cables and hoses are protected when routed through the Cable Saver™ corrugated tubing. The Cable Saver™ uses a spring retraction system housed inside the Energy Tube™ to keep this service loop out of harms way in safe location at the rear of the Robot when not required. The Cable Saver™ is a COMPLETE solution for any make or model of robot. It installs quickly-on either side of the robot and has been tested to resist over 15 million repetitive cycles.