Goal is to investigate radical concepts for 20X increase in MANET size
Troops operating in forward locations without telecommunication infrastructure often rely on a mobile ad hoc network (MANET) to communicate and share data. The communication devices troops use on foot or in vehicles double as nodes on the mobile network. A constraint with current MANETs is they can only scale to around 50 nodes before network services become ineffective. For the past 20 years, researchers have unsuccessfully used Internet-based concepts in attempts to significantly scale MANETs.

DARPA is exploring new technologies unencumbered by Internet Protocols (IP) that could be the key to enabling large MANETs. Although the Internet facilitated far-reaching technical advances, in this technology area the Internet may be the roadblock. The MANET scaling goals will not be satisfied with incremental improvement using existing protocols and concepts. Truly revolutionary ideas will explore new paradigms that allow users to effectively share information unshackled from existing constraints.
"A MANET of a thousand nodes could support an entire battalion without the need for manual network setup, management and maintenance that comes from 'switchboard'-era communications," said Mark Rich, DARPA Program Manager. "This could provide more troops with robust services such as real-time video imagery, enhanced situational awareness and other services that we have not yet imagined."
A Request for Information (RFI) released today calls for research paper abstracts describing bold, new technical approaches to overcoming the MANET scaling problem. DARPA intends to select innovative and promising concepts to be presented as papers at a symposium entitled, "Novel Methods for Information Sharing in Large-Scale Mobile Ad Hoc Networks," Aug. 7-8, 2013, at the DARPA Conference Center. For more information on abstract submission and the symposium, view the RFI here: http://go.usa.gov/TP3z
Featured Product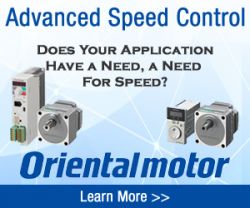 The BLE2 Series replaces our popular BLE Series and continues our brushless motor advantages by featuring an all new compact, high-power and high-efficiency brushless DC motor combined with a Driver that can be digitally set and controlled via external DC voltage or by the front panel. The BLE2 Series can easily compete with larger 3-phase inverter driven motors in many more applications, with built-in simple holding torque function, saving space and increasing performance thanks to the advantages of a brushless motor design. The BLE2 Series has a maximum speed of 4000 r/min, achieving a speed ratio of 1:50 (80 to 4000 r/min). The new motor structure is small than previous models and enables high power and high efficiency while incorporating easy setting, installation and wiring. The new motor connector offers IP66 degree of protection and allows for easy and direct connection between motor and driver with two available orientation of cable outlet direction. Standardized use of stain