Ganesh Machinery Garners Major Success at the 2013 Precision Machining Technology Show in Columbus, Ohio
April 27, 2013

Ganesh Machinery, the popular machine tool industry leaders, recently attended the 2013 Precision Machining Technology Show (PMTS) in Columbus, Ohio, where they unveiled their latest multi tasking machines with robotic machine tending systems. Located on the main show floor, Ganesh amazed attendees with the latest models of their Cyclone Series with fully robotic systems. Onlookers enjoyed a crowd-pleasing display of the superior functionality and ample tooling flexibility offered by the new multitasking machines, and more.
The Precision Machining Technology Show is a major industrial supply trade show, designed to showcase new industry trends and allow industry professionals the opportunity to present their newest products and services. This year's event took place April 16-18 at the Greater Columbus Convention Center in Columbus, Ohio. Hundreds of suppliers from around the nation exhibited the cutting-edge in lathes and CNC turning centers, rotary transfer machines, cutting tools, computer hardware and software, and much more.
Ganesh successfully demoed their latest generation of machine tools, astonishing attendees throughout the event. Spectators witnessed the speed and flexibility of their state-of-the-art, high quality multitasking CNC machines and more, including:
Cyclone-32 GT, their high-tech heavy-duty CNC gang tool lathe, with 3-axis, full "C" axis, up to 4 live tools, and many tooling options available. Ganesh displayed how the Cyclone-32 GT can save tool change time and setup time, in an efficient gang-type setup.
Cyclone-52 TTMY, a multi-axis dual-spindle dual-turret - CNC turn/mill multitasking machines, with full "Y" axis. Onlookers reacted with elation as it proved to live up to its claim as a highly versatile twin-spindle, twin turret machine, perfectly suited for complicated parts.
Cyclone 32-CS, a 7-axis machine with 27-tools and 11-live tools, sub spindle with full "Y" axis, that combines turning-milling front and back side work for complete machining. This unique product also featured 1 3/8" bar capacity, full parts catcher with conveyor, rugged 7,800lbs machine weight, double-anchored ball screws, and more.
VFM-4024-5A 5 Axis VMC Machining Center, with 24" Z-axis Travel and Tsudakoma Trunion Tables. Trade show members were astounded by its space saving design and functionality. This impressive vertical machining center offers powerful Mitsubishi M700 CNC Controls, rugged cross-linear ways, double anchored pre-tensioned ball screws and more.
As a leader in the machine tool industry, Ganesh Machinery is dedicated to offering high quality products, after-sale service, and flexible financing options. They are well sought after around the world for their unwavering commitment to providing the next generation of machine tools. Ganesh is proud of their success at this years PMTS in Ohio, and they look forward to continuing to demonstrate their latest innovations throughout the year and beyond.
About Ganesh Machinery
Founded in March of 1985 with only a 1,200 sq. ft. facility, Ganesh Machinery has since grown into an industry powerhouse with a 15,000 sq. ft. facility, supported by a 40,000 sq. ft. warehouse. They are dedicated to excellent customer service with an emphasis on building and maintaining customer loyalty. They have sold and serviced machines to over 12,000 machine shops, technical schools, and more. They have a 4,000 sq. ft. showroom, fully stocked parts room, and an in-house training center. For more information, visit http://www.ganeshmachinery.com/ or follow them on Facebook, Twitter, LinkedIn, YouTube, or Pinterest.
Featured Product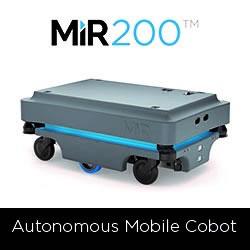 MiR200 is a safe, cost-effective mobile robot that automates your internal transportation. The robot optimizes workflows, freeing staff resources so you can increase productivity and reduce costs. MiR200 safely maneuvers around people and obstacles, through doorways and in and out of lifts. You can download CAD files of the building directly to the robot, or program it with the simple, web-based interface that requires no prior programming experience. With its fast implementation, the robots offers a fast ROI, with payback in as little as a year.