IDENT LLC, a premier manned and unmanned aerial intelligence services company has joined with Quicksilver Aeronautics, LLC in a strategic partnership to produce a fleet of the latest generation of GT500 surveillance and intelligence gathering aircraft.
Jacksonville, Florida June 11, 2013

Announced today, the partnership offers a cost-effective alternative for government agencies and other customers faced with the challenge of acquiring surveillance aircraft that are extremely expensive to acquire and operate.
"This partnership will result in allowing the very agile GT500 aircraft to perform persistent, rapid response, wide-area surveillance missions that have traditionally been assigned to large, expensive-to-operate aircraft," said IDENT LLC co-founder Richard McCreight.
The GT500 Mosquito first flew 26 years ago and the design has seen continuous improvements including GPS flight controls, forensics imaging technologies and data telemetry elements. The latest improvements provide actionable intelligence in support of multiple command and control functions on missions of up to seven-hours in duration. Operating from remote areas ranging from the tropics to the sub-Arctic, the GT500 can safely perform a variety of missions carrying various payloads -- all at comparatively low costs. GT500s have logged 7,650 flight hours in support of programs funded by NASA, Department of Defense, Department of Homeland Security and others.
As a team of companies with a proven track record of meeting or exceeding government contract requirements, IDENT offers the government an attractive, comprehensive, end-to-end intelligence solution with a large return on investment for the taxpayer. For example, at a time when sequesters have eliminated much of the government's funding for buying surveillance aircraft, IDENT can provide critical intelligence-gathering services for a simple monthly fee.
"There is an outstanding level of cooperation and strategic alignment between IDENT and Quicksilver. Both companies complement each other nicely so the partnership is able to deliver a fully integrated solution," said Will Escutia, president of Quicksilver Aeronautics, the world's leading manufacturer of ultralight aircraft. "We are extremely pleased to work with IDENT."
IDENT, LLC (http://www.identllc.com) provides end-to-end real time aerial intelligence, surveillance, mapping and monitoring services for government, local municipalities, utility companies and other commercial accounts. Questions regarding IDENT may be submitted to info(at)identllc(dot)com.
Featured Product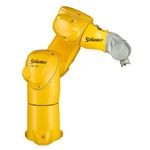 TX2 robots: redefining performance by offering collaborative safety and high performance in a single machine. These pioneering robots can be used in all areas, including sensitive and restrictive environments, thanks to their unique features. Safety functions are easy and inexpensive to implement. They allow a higher level of interactions between robots and human operators, while still guaranteeing protection of your people, production and investment.