Where Automation, Robotics & Supply Chain Experts Assemble with System Integrators and End-Users
Woodland Hills, CA June 17, 2013

Infocast is delighted to announce its Automation, Robotics & the Supply Chain Summit, next month in Pittsburgh from the 16-17 at the Fairmont Pittsburgh. With 8 real-world case studies and a faculty comprised of system integrators, robotics and automation technology providers, plus the companies utilizing those technologies today, this ground-breaking summit will demonstrate how to plan, operate and justify the costs of an automated supply chain and materials handling operation. Two dual-track workshops precede the summit; Constructing a Roadmap for Successful Automation and Building Your Automated Supply Chain Team, and survey the economics of automating your materials handling operation.
The market for supply chain and distribution services is in upheaval, driven by increasing consumer demand for next-day and same-day deliveries and an expanding variety of product offerings. By embracing advanced automated supply chain solutions and robotics, distributors and suppliers can expect to experience lower operational costs, greater throughput and ultimately higher revenues. But only those operators who are well versed in the financial risks and rewards, technical considerations, and long-term trends will prosper as the market for their services continues to evolve and grow. Infocast's Automation, Robotics & the Supply Chain Summit will be the place to learn about automating your materials handling operation, network with leaders in the field, share experiences with peers and develop the strategies needed to strike deals in an increasingly complex market.
The power-packed program includes experts from Anheuser-Busch, Corkill Insurance Agency, Daifuku Webb, Egemin Automation, enVista Corporation, FOX IV Technologies, Integrated Systems Design (ISD), Fanuc Robotics, Grenzebach Corporation, JBT Corporation, Miebach Consulting, MMPEX Systems, Retrotech, Safety Compliance Services, Sapient Automation, SAS Automation, Seegrid, SICK, St. Onge Company, Trommer & Associates, Vanderlande Industries, Westfalia Technologies, Wirtz Beverage Illinois, Yaskawa Motoman with SupplyChainBrain and Supply & Demand Chain Executive Magazine as Media Partners.
To register for the Summit, or for more information on the program, joining us as a Speaker or a Sponsor, please visit the event website at infocastinc.com/automation13, or contact Infocast at 818-888-4444.
About Infocast
For over 25 years, Infocast has produced the highest quality events, tailored to the needs of the industries we serve. We intensively research the marketplace, pulling from an extensive network of experts to give you the information and connections to succeed.
Featured Product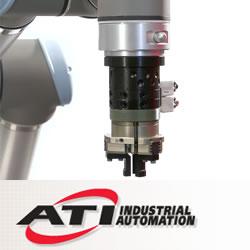 The ATI Robotic Tool Changer provides the flexibility to automatically change end-effectors or other peripheral tooling. These tool changers are designed to function reliably for millions of cycles at rated load while maintaining extremely high repeatability. For this reason, the ATI Tool Changer has become the number-one tool changer of choice around the world. ATI Tool Changer models cover a wide range of applications, from very small payloads to heavy payload applications requiring significantly large moment capacity.