IntelLiDrives, Inc. has released large center aperture rotary tables with very low height.
Philadelphia, PA June 28, 2013

IntelLiDrives, Inc. has released a new model ACR-335UT precision rotary table which is the lowest profile rotary table with high-speed direct-drive rotary servo motor on the market.
Large 335 mm center aperture and lightweight construction makes this rotary stage an ideal choice for processing 300 mm semiconductor wafers.
This stage can be easily installed into IntelLiDrives open frame XY tables.
ACR-335UT rotary actuator has very wide dynamic speed range and can move at sub-rpm speed with very low velocity ripple and accelerate quickly to 3,000 rpm. Its directly coupled precision encoder resolves positions down to 0.25 arc-sec, providing lag-free, backlash-free feedback to the servo controller.
The rotor low inertia improves the start/stop behavior and velocity control significantly compared to conventional rotation stages, due to the light-weight direct-drive core-less motor. The result is precise bidirectional speed and position control, which is critical for high speed motion contouring.
These features make the ACR-335UT outperform the stability, acceleration and settling speed of traditional servo motor gear-driven mechanisms.
Precision four-point preloaded contact bearings are used to maximize performance with respect to wobble, moment stiffness, and rotating friction. A precision-machined rotating shaft further minimizes wobble.
IntelLiDrives offers a wide range of servo amplifiers and advanced controllers to provide a complete, integrated package.
Main features
*direct drive rotary servo table
*core-less servo motor technology
*ultra-thin 22 mm profile
*high speed 3,000 rpm
*center aperture 335 mm
*0.25% low speed velocity stability
About Company:
IntelLiDrives, Inc. supplies linear actuators, XY tables and rotary tables for the industry, government, science and research institutions around the world. Our precision rotary actuators, XY stages and linear actuators are used in the applications in medical devices, life sciences, semiconductor and electronic assembly manufacturing, data storage, laser processing, military/aerospace, photonics, automotive and test assembly, research and development and other industries requiring high precision and throughput motion control solutions.
Featured Product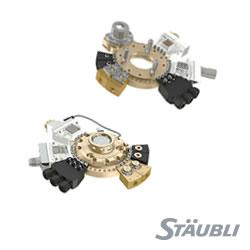 TX2 robots: redefining performance by offering collaborative safety and high performance in a single machine. These pioneering robots can be used in all areas, including sensitive and restrictive environments, thanks to their unique features. Safety functions are easy and inexpensive to implement. They allow a higher level of interactions between robots and human operators, while still guaranteeing protection of your people, production and investment.