New category of robot available through Valin to revolutionize automation industry.
San Jose, CA July 10, 2013

Valin Corporation, a privately held, employee-owned company providing technical solutions for the technology, energy, life sciences, natural resources, and transportation industries, introduces Baxter, a new category of robot from Rethink Robotics. Baxter was built with the sole purpose of performing simple, repetitive tasks that are often difficult to automate.
Engineered with 'common sense,' Baxter quickly adapts to changes in its task and its environment in ways that make it a far more versatile automation tool for jobs such as discrete part handling, loading/unloading lines, machine tending, light assembly and more. Valin was selected as the exclusive distributor for Rethink Robotics and the Baxter Robot in Northern California, Oregon, Washington, Montana, Idaho and Northern Arizona.
"We're very pleased to be able to offer Baxter to our valued customers," said Joseph Nettemeyer, President and CEO, Valin Corporation. "We're always on the look-out for new, innovative ways to provide valuable solutions to our customers. Baxter is the first in a new generation of robots that are inexpensive, easy to use and safe."
When compared to the base cost and combined expense of caging, integrating and programming of a traditional industrial robot, Baxter is very affordable at a base price of $22,000. Baxter separates itself by requiring no programming, no safety cages and no integration. Additionally, Baxter works intelligently, is versatile and capable, and has an extensible platform. Regular software updates are provided to further increase the robot's capabilities and performance.
"What excites me most about Baxter is its uniqueness," continued Nettemeyer. "Because of this uniqueness, Baxter is creating a level of interest in the factory automation product world that you wouldn't normally see."
Valin is holding a free event August 2nd, on the 75th and 76th floor of the Columbia Tower Club in Seattle, Washington where attendees will have the opportunity to meet Baxter and experience a hands-on demo. For more information please contact Ric Leyva at rleyva(at)valin(dot)com, or call him at (408) 328-2669.
About Valin Corporation
Based in San Jose, California, Valin Corporation, one of Inc.'s 500/5000 Fastest Growing Companies is the leading technical solutions provider for the technology, energy, life sciences, natural resources, and transportation industries. For nearly 40 years, Valin has offered personalized order management, on-site field support, comprehensive training, and applied expert engineering services utilizing automation, fluid management, precision measurement, process heating, filtration, and fluid power products.
Valin was recently recognized as the 21st Largest Private Company in Silicon Valley by the Silicon Valley / San Jose Business Journal, as well as on Industrial Distribution's Big 50 Watch List and Modern Distribution Management's Top 40 Industrial Distributors list. To learn more about Valin's solutions and capabilities, please visit http://www.valin.com, or to browse their product portfolio please visit http://www.valinonline.com.
Featured Product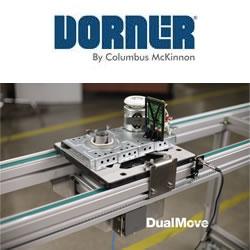 Dorner's 2200 Series Precision Move Pallet Systems are ideal for assembly automation. With features such as an innovative timing belt conveyor design and industry best pallet transfers, they get your product to the exact location, at the exact time and in the exact position it needs to be. They are now available with new options such as heavy load corner modules with 150 lb. capacity and 180 degree tight transfer corners for compact loops.