The Phoenix AUV is equipped with field-swappable acoustic and optical payloads.
Washington, DC - 9 July 2013 - Phoenix International Holdings, Inc. announced that the company has taken delivery of their Bluefin-21 Autonomous Underwater Vehicle (AUV) after designer and manufacturer Bluefin Robotics completed a depth upgrade from a 1,500-meter to a 4,500-meter capability.

Phoenix Vehicle LaunchThe Phoenix AUV is equipped with field-swappable acoustic and optical payloads. The acoustic payload section can concurrently operate a Reson 7125 multibeam (400kHz), Edgetech 2200-M side scan sonar (120/410 kHz), and Edgetech DW2-16 sub-bottom profiler (2-16 kHz) on 20 hour dives at speeds up to 3.5 knots. The optical payload section can collect high resolution black and white imagery up to 3 frames per second using a Prosilica GE1900 camera system with 1920 x 1080 pixel resolution. This highly capable and portable deep-water vehicle ships air freight to deploy on vessels of opportunity. The average loadout specifications which include the AUV, mission support equipment, and lithium ion batteries consist of 20 pieces totalling 10,000 lbs. and occupies 1,000 cubic feet.
"We are quite pleased with this upgraded vehicle," said Phoenix CEO, Mike Kutzleb. "And we're ready to go to work."
About Phoenix International Holdings, Inc.
Phoenix is an employee-owned, ISO 9001-2008 Management System certified marine services contractor providing manned and unmanned underwater solutions, design engineering, and project management services to a diverse set of clients worldwide. Expertise is available from six regional offices in the areas of wet and dry hyperbaric welding, subsea engineering services, conventional and atmospheric diving, Autonomous Underwater Vehicles, Remotely Operated Vehicles, and other robotic systems. Our capabilities are directed to underwater inspection, maintenance, and repair; deep ocean survey, search and recovery operations; submarine rescue; construction; subsea tieback; plug and abandonment; subsea mining; archaeological; and documentary projects.
For further information please contact Chris Moore (cmoore@phnx-international.com) Tel: 301.341.7800; or view our web site: www.phnx-international.com.
Featured Product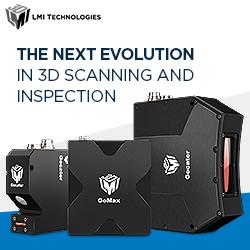 Every robot needs eyes to see, think, and do. Gocator® 3D smart sensors add powerful vision-guidance and inspection capability to industrial robots. You can use these sensors in a wide variety of factory automation applications. Pair them with scara, delta, and collaborative robots to create complete robotic solutions that deliver high-performance 3D results in vision-guidance, quality control inspection, and automated assembly with smart pick-and-place. Make your robot FactorySmart® with Gocator 3D smart sensors.