July 15, 2013

SEPAC, a manufacturer of electromagnetic brakes and clutches, is proud to announce acceptance as a promotional sponsor of the Carnegie Mellon University's National Robotics Engineering Center (NREC) Tartan Rescue Team for their participation in the Department of Defense Advanced Research Agency (DARPA) Robotics Challenge.
The Department of Defense's Strategic plan calls for the Joint Force to conduct humanitarian disaster relief and related options. The DARPA Robotics Challenge (DRC) attempts to address the issue by promoting robotic technology for disaster response operations. The robots will be judged based on autonomy, mobility, dexterity, strength, and endurance.
SEPAC's electromagnetic brakes and motion control engineering expertise is providing integral support in the development of the robot's drive joints. Precise control of these drive joints enable the robot to achieve human like manipulation and gripping to complete critical rescue orientated tasks.
About Carnegie Mellon's Robotic Institute:
Carnegie Mellon's Robotic Institute was founded in 1979 and was the first robotics academic department in the US. Today it is the largest (in revenue) robotics research group in the world.
About SEPAC:
A custom designer and manufacturer of motion control products, SEPAC Inc., in Elmira, NY, provides innovative electromagnetic brake and clutch solutions of the highest quality and reliability in markets such as aerospace, defense, energy, medical, industrial and robotics. To view our interactive catalog, visit www.SEPAC.com or call (800) 331-3207.
Featured Product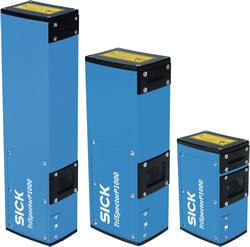 LiDAR (Light Detection and Ranging) is one of the most reliable methods for parts sensing in factory automation today. SICK has made this technology affordable and easy to use! Click on the video link below to learn about the TiM1xx LiDAR sensor and how it provides: - Area scanning LiDAR technology in a standard sensor package - 200-degree field of view and 3 meter sensing range allows for 169 square feet of area scanning - Compact size and light weight enables ease of deployment in "non-standard" type applications, like end-of-arm robotic tooling - Wide area scanning without having to mount a transmitter and receiver makes installation much easier - IO Link for easy configuration