Jet Edge's EDGE X-5 5-Axis water jet cutting system cuts taper-free and beveled parts from virtually any material.
St. Michael, Minnesota July 18, 2013

Waterjet systems manufacturer Jet Edge, Inc. introduces the EDGE X-5 5-axis water jet system.
The Jet Edge EDGE X-5 5-axis water jet system cuts complex taper-free and 3D parts from virtually any material. Featuring Jet Edge's Permalign® EDGE technology, the EDGE X-5 is capable of cutting chamfers, weld bevels and sophisticated 3D parts such as impeller blades.
The EDGE X-5 features an industrial PC controller designed specifically for 5-axis waterjet cutting. The AquaVision Di® Controller's open architecture design gives operators the freedom to fine-tune programs from any CAD/CAM/nesting software, utilizing standard G&M code. The system's Intelligent Work Envelope automatically adjusts depending on the angle of the cut to protect the operator, material, and system components.
The EDGE X-5 is designed to provide years of dependable service in harsh industrial environments. Its rock-solid design separates the motion system from the catcher tank, eliminating vibration and ensuring maximum part quality. It is ball-screw driven for optimal precision and features direct-couple AC brushless digital servo motors and single or double carriages. Critical bearing components are protected by heavy metal covers with brush seals and positive air pressure.
The EDGE X-5 is available in a wide range of sizes, from 5'x5' (1525 mm x 1525mm) to 24'x13' (7515 mm x 3365 mm). It is powered by a Jet Edge waterjet pump. Jet Edge offers the widest selection of pumps in the industry; 30-200hp (22-149kw), 60,000-90,000 psi (4100-6200 bar) hydraulic intensifier and direct drive pumps are available.
Like all Jet Edge waterjet systems, the EDGE X-5 is made in U.S.A.
About Jet Edge
Established in 1984, Jet Edge is a global designer and manufacturer of waterjet systems for precision cutting, surface preparation and coating removal. Jet Edge systems are used around the world in a broad range of industries, from the world's leading airlines to automotive, aerospace, industrial manufacturers, machine and job shops.
Featured Product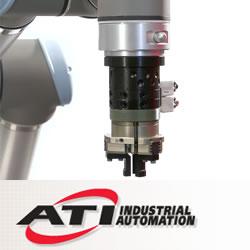 The ATI Robotic Tool Changer provides the flexibility to automatically change end-effectors or other peripheral tooling. These tool changers are designed to function reliably for millions of cycles at rated load while maintaining extremely high repeatability. For this reason, the ATI Tool Changer has become the number-one tool changer of choice around the world. ATI Tool Changer models cover a wide range of applications, from very small payloads to heavy payload applications requiring significantly large moment capacity.