New dairy facility system fulfills faster picking, accuracy and reliability objectives
(GRIMSBY: August 26, 2013) -- RMT Robotics® (www.rmtrobotics.com), a Cimcorp Oy company, is pleased to announce the sale of an automated crate storage and picking system for The Kroger Co. The equipment will be installed in a new dairy facility in Denver, Colorado. The initial system will be operational in the second quarter of 2014.

The system is designed to store up to 36,000 crates and process in excess of 30,000 crates per day. Crates are stacked, accumulated and conveyed to four MultiPick Gantry robots. The robots then move the inventory to storage positions on the floor until order fulfillment. Order pallets are picked by the robots, palletized and banded before being loaded onto a route truck.
"We look forward to providing Kroger with leading edge technology that will demonstrate the collaboration of solution design between our Finnish head office, Cimcorp Oy, and RMT Robotics" said Derek Rickard, Distribution Systems Manager, RMT Robotics Ltd. "This solution will be the first application of its kind in North America after having many years of success in the European market."
"The system developed by Cimcorp/RMT Robotics achieves our objectives of faster picking, accuracy and reliability enabling us to give our customers excellent standards of service", says Larry Noe, Manufacturing Engineering Manager, Kroger Mountain View Foods. "The system will reduce our operational costs, while ensuring customer orders are picked and shipped quickly and accurately."
For more information on RMT's automated crate picking systems please visit our website: RMT Robotics/Crate picking systems
About RMT Robotics Ltd.
RMT Robotics (www.rmtrobotics.com), a Cimcorp Oy Company, is a global company that manufactures and integrates turnkey robotic gantry-based order fulfillment and tire handling solutions designed to reduce operating costs and streamline operations.
Since 1981, RMT Robotics has been recognized around the globe as an innovator in robotics materials handling. RMT helps our customers compete in an increasingly aggressive and price-sensitive global marketplace by providing best-in-class robotic handling solutions.
About Cimcorp Oy
Cimcorp Oy is a Finnish company specializing in material handling and intralogistics automation using robotics and advanced software technologies. Cimcorp Oy Group - which consists of Cimcorp Oy in Finland and RMT Robotics Ltd. in Canada - has become a leading supplier worldwide to the tire industry, and is also strong as a supplier to the food & retail and postal services sectors. The group has 250 employees and has delivered 2000 robotic systems across five continents.
About The Kroger Co.
The Kroger Co., one of the world's largest retailers, employs more than 339,000 associates who serve customers in 2,422 supermarkets and multi-department stores in 31 states under two dozen local banner names including Kroger, City Market, Dillons, Jay C, Food 4 Less, Fred Meyer, Fry's, King Soopers, QFC, Ralphs and Smith's. The company also operates 790 convenience stores, 344 fine jewelry stores, 1,141 supermarket fuel centers and 37 food-processing plants in the U.S.
Featured Product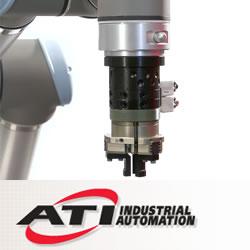 ATI Industrial Automation's MC-10 Manual Tool Changer provides a cost-effective solution for quickly changing tools by hand. Its compact yet robust design is optimized for collaborative robot applications. The ergonomic twist-collar locking mechanism ensures a secure attachment of the tool and easy manual operation with tactile feedback. This Manual Tool Changer can carry payloads of up to 22 lbs and includes multiple fail-safe features that resist vibration and prevent loosening. The MC-10 Manual Tool Changer has integrated air pass-through connections and options to connect electrical utilities if needed. ATI will feature the new MC-10 along with a variety of other robotic demonstrations and product displays at this year's IMTS show in Chicago (Booth #236417).