XYZ robot is used to acquire time-lapsed plant growth images.
Philadelphia, PA August 27, 2013

IntelLiDrives released a new robotically controlled vertical XYZ gantry that has been succesfully applied by the plant physiology researchers at the University of Wisconsin-Madison to automate image acquisition system, using robotic camera CCD imagers and XYZ vertical gantry system, to create time lapsed movies of plant growth in action. System collects images of plants that have been genetically altered with the intention of understanding of how the genetic manipulation affects their growth and development.
XYZ gantry consists of computer-controlled linear actuators, each integrating brushless linear servo motor with high resolution linear encoder, moves the CCD cameras over a 1m x 1m area with a positioning resolution of 10 microns. Additional linear axis allows change of camera's field of view to acquire well focused images of seedlings in Petri plates.
Robotic camera snaps pictures every 30 seconds, capturing the curling, twisting motion of germinating seeds putting out new roots.
After capture, the images are analyzed to determine cellular growth rates in the root as well as the angle and curvature of the root tip. Computer vision algorithms study the camera's time-lapse videos and measure the sizes of seeds, plants' cellular growth rates, the angle and curvature of the roots, and more.
By using this XYZ Robot with computer vision system gives researchers the ability to automate the plant growth time-lapsed image acquisition and processing and to increase throughput of experiments to track the plants growth and development. Now researchers can find the genes that control plant's root growth and have fundamental importance to crop improvement. It lays the foundation for discoveries that will help improve plants for human purposes.
For additional information about operation of XYZ gantry visit http://www.intellidrives.com/.
IntelLiDrives, Inc. manufactures linear actuators, XY tables and rotary tables for the industry, government, science and research institutions around the world. Our precision rotary actuators, XY stages and linear actuators are used in the applications in medical devices, life sciences, semiconductor and electronic assembly manufacturing, data storage, laser processing, military/aerospace, photonics, automotive and test assembly, research and development and other industries requiring high precision and throughput motion control solutions.
Featured Product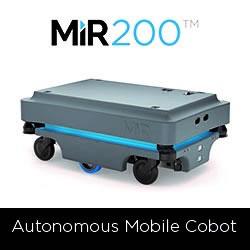 MiR200 is a safe, cost-effective mobile robot that automates your internal transportation. The robot optimizes workflows, freeing staff resources so you can increase productivity and reduce costs. MiR200 safely maneuvers around people and obstacles, through doorways and in and out of lifts. You can download CAD files of the building directly to the robot, or program it with the simple, web-based interface that requires no prior programming experience. With its fast implementation, the robots offers a fast ROI, with payback in as little as a year.