The collaboration extends TI's commitment to STEM education, inspiring students to learn and create innovative projects
DALLAS, Sept. 10, 2013 -- Today, Texas Instruments (TI) (NASDAQ: TXN) announced that Sitara™ processors, along with TI connectivity and analog solutions, have been selected to power the LEGO® MINDSTORMS® EV3 robotics platform that is now available. The robotics tool kit contains hardware and software to create customizable and programmable robots and features a programmable brick computer powered by TI's Sitara AM1808 ARM9™ processor to control the motors, monitor sensors and run Linux. Additionally, the brick contains TI's CC2560 Bluetooth® connectivity solution, which allows users to control their robot with a mobile device using an iOS or Android app.

"We are excited to be part of the MINDSTORMS program, which will help create an interactive environment that fosters a growing passion and enhanced technology skills," said Miller Adair, general manager for Sitara processors, TI. "TI's Sitara processors and Bluetooth connectivity power the new EV3 brick that lays the foundation for users to explore and learn about construction, engineering and programming through hands-on problem solving that is first and foremost fun."
A closer look at the technology that powers next-generation toy robots
TI's Sitara AM1808 processor makes it possible for EV3 users to do more with the new MINDSTORMS platform, which offers increased performance, new sensors and greater flexibility than ever before. The highly scalable AM1808 processor enables interactive touch screens, high-resolution displays, fast performance, and multiple, flexible integrated connectivity options for a robust offering-all while maintaining low design costs and power levels. This low power consumption prolongs battery life and reduces heat emissions to enable portable, fan-less applications. Other applications include portable navigation, handheld gaming, educational devices, building and industrial automation and more.
Benefits of the TI technology powering the MINDSTORMS EV3 include:
*Flexible Sitara processor that increases performance from 48 MHz to 300 MHz.
*Sitara AM1808 ARM9 processor is scalable up to ARM® Cortex™-A8 with the Sitara AM335x processor generation.
*Integrated connectivity, including a high-speed USB communication and USB host interface.
*Linux support.
*TI's CC2560 Bluetooth solution for improved user experience.
*High-efficiency power management integrated circuits to extend battery life, including the TPS62590 and TPS40210 DC/DC converters.
*Analog signal chain devices, such as the high-precision ADS7957 16-channel SAR analog-to-digital converter, and the space-saving SN74LVC2G07 gate driver in NanoFree™ package.
Availability
In addition to being available in retail stores, a special version of the platform, LEGO MINDSTORMS EV3 Education, is optimized for student use and available for classrooms through LEGO Education.
STEM Education
For many years, TI has played a leadership role in driving innovative education programs. This collaboration with The LEGO Group extends TI's commitment to support the science, technology, engineering and math (STEM) education initiative. Over the past five years, TI and the TI Foundation have contributed more than $150 million to education.
For more information:
*Find out more about TI's Sitara AM1808 processors.
*Join the TI E2E™ Community.
*Follow TI on Twitter.
*Like TI on Facebook.
About Texas Instruments
Texas Instruments Incorporated (TI) is a global semiconductor design and manufacturing company that develops analog ICs and embedded processors. By employing the world's brightest minds, TI creates innovations that shape the future of technology. TI is helping more than 100,000 customers transform the future, today. Learn more at www.ti.com.
Featured Product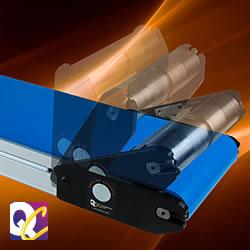 AS40 Conveyors are designed for ease of use and simple integration with robotic applications. Built on a rigid aluminum frame, they feature tee slots for rapid accessory mounting and a tail that flips up at the push of a button for easy under-belt cleaning and belt changes. Nosebar tails are available for transferring small parts between conveyors. All conveyors include a 10 Year Warranty and most are available with a fast five day lead time.