Friction-stir welding technology a 'game changer' for industry
ALBANY, Ore.--Concept Systems Inc., a leader in automation services, has signed an agreement with EADS to promote, offer, market, sell or distribute DeltaN FS® friction-stir welding solutions to the North American market. The agreement also designates Concept Systems as an "Authorised Solution provider for DeltaN FS® - An EADS technology"

"This gives us a very unique technology that we can use in new applications with our existing customers and it's going to open doors to new customers," said Ed Diehl, co-CEO and Vice President of Engineering and Operations.
While conventional welding methods often waste material, friction-stir technology reduces scrap, eliminates defects and provides a more aesthetic surface. This later fact often eliminates the need for secondary manufacturing. The EADS backed DeltaN FS® technology offers significant advantages in joining materials like aluminum, magnesium, copper and composites, including inter-metallic joints and also allows the welding of components with complex geometries. Metals can be welded using mechanical pressure suitable not only for small parts, but often for large parts that can not be easily heat-treated post welding to recover temper characteristics. The technology has been successfully integrated on production robots for serial production offering a compelling value proposition to customers.
"The technology is disruptive and it will change the game for our customers in terms of how they manufacture, and it's a totally new way of looking at things," Diehl said. "We love to bring our customers new ways to apply these technologies."
About Concept Systems Inc.
Founded in 1999 and based in Albany, Oregon, with offices in Seattle, Denver and Charlotte, NC, Concept Systems Inc is an automation solution provider, integrating the latest in proven technologies for their manufacturing customers. Their plant-floor expertise is in complete line integration and retrofits utilizing technologies that include: CNC/Machine Tool, Robotic Welding, Vision Guided Robotics, and Motion Control applications. Concept Systems serves clients in Aerospace, Automotive, Wood & Building Products, Food & Beverage, Rubber & Plastics, Metals, and Hi-Tech Manufacturing.
Recognized as 2007 Integrator of the Year by Control Engineering magazine, Concept Systems is a CSIA (Control System Integrators Association) Certified Member, a Rockwell Automation Solution Partner, Siemens Solution Partner, and a UL 508A/698A/NNNY listing agent.
For more information, please visit www.conceptsystemsinc.com.
Featured Product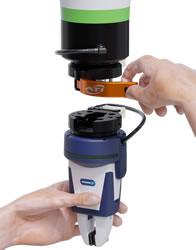 ATI Industrial Automation's MC-10 Manual Tool Changer provides a cost-effective solution for quickly changing tools by hand. Its compact yet robust design is optimized for collaborative robot applications. The ergonomic twist-collar locking mechanism ensures a secure attachment of the tool and easy manual operation with tactile feedback. This Manual Tool Changer can carry payloads of up to 22 lbs and includes multiple fail-safe features that resist vibration and prevent loosening. The MC-10 Manual Tool Changer has integrated air pass-through connections and options to connect electrical utilities if needed. ATI will feature the new MC-10 along with a variety of other robotic demonstrations and product displays at this year's IMTS show in Chicago (Booth #236417).