APC IA found that robotic industrial trucks by Seegrid, also known as flexible AGVs, created a significant reduction in safety incidents.
PITTSBURGH, PA-Seegrid recently announced the publication of new case study, "How American Packaging Corporation Iowa Combines Safety with Efficiency Using Seegrid Flexible AGVs." To read the entire case study, go to: http://info.seegrid.com/flexible-agv-case-study.

APC IA found that robotic industrial trucks by Seegrid, also known as flexible AGVs, created a significant reduction in safety incidents. Seegrid robots did not replace existing equipment; rather the existing equipment was re-deployed which helped APC IA with rapid continuing growth. The Iowa packaging leader reduced costs by re-deploying personnel to more profit-making tasks while limiting potential safety hazards.
Bob Teuscher, Shipping and Receiving Department Manager for APC IA noted, "The GT10 tow tractor along with the GP8 pallet trucks have allowed me to redeploy the utilization of APC's workforce in a much more cost-effective area of production while increasing productivity without adding to the overall workforce total. Robots were the right solution for delivering goods to specific locations and I have the ability to change where the robots go at a moment's notice."
Established in 1902, American Packaging Corporation has been a leader in the packaging industry for more than a century. The company is a flexible packaging converter specializing in flexographic and rotogravure printing, multi-ply extrusion and adhesive lamination of film, paper and foil. APC also fabricates pouches and bags with a variety of special features.
About Seegrid:
Seegrid Corporation (www.seegrid.com) provides simple, affordable, flexible vision-guided automated guided vehicles (AGVs) to the material handling industry. Seegrid robotic industrial trucks, flexible AGVs, are revolutionizing the movement of materials in manufacturing and distribution environments. Seegrid automated pallet trucks and tow tractors optimize workflow processes by increasing productivity and reducing costs, creating economic and operational advantages. Robotic industrial trucks deliver a rapid return on investment, improve facility safety, and reduce equipment and product damage. Fast Company magazine named Seegrid as one of the Top 50 World's Most Innovative Company in 2013 and among the Top 10 World's Most Innovative Robotics Company in 2013. Follow Seegrid Corporation on Twitter at @Seegrid.
Featured Product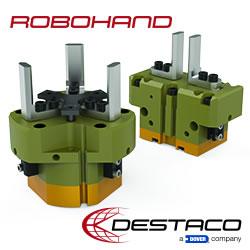 Automatically change end effector tooling quickly and easily with Destaco's Automatic Tool Changers. Designed with exceptional repeatability, high rigidity and load capacity, they are perfect for multiple tooling applications utilizing one robot. We offer different models and sizes to handle light-duty to heavy-duty applications. Our RQC/RTP Series provides a high level of flexibility with a configurable, modular design that accommodates up to four optional modular interfaces.