INCREASING CAPACITY AND CREATING 200 NEW JOBS
Friday, October 18th, 4:00pm, Apex, North Carolina: ATI Industrial Automation will break ground for an operations expansion at its corporate headquarters in Apex, North Carolina, on Friday, October 18, 2013 at 4:00pm. Driven by high demand for ATI's end-effector products, the expansion will not only add 200 new jobs it will more than double the robotics tool manufacturing operations to 129,000 square feet. Keith Morris, Chairman, states, "Global pressure for ever-higher manufacturing productivity continues to drive demand for our products. This facility expansion will carry us well into the future, enabling us to continue to reduce lead times while providing a superior level of quality." The two-phase expansion will begin construction immediately; phase two will begin in 3 to 5 years.

ATI was established in 1989 out of a small office in Garner, NC, by three engineers and current ATI employees, Keith Morris, Chairman; Robert Little, CEO; and Dwayne Perry, Chief Sensor Technologist. Their mission, to produce the best robotic productivity tools available. Since then, the employee-owned firm has grown from a handful of employees to over 200 with their corporate and manufacturing headquarters in Apex, N.C. and offices in Michigan, China, and Brazil. Since 1998, ATI has increased its revenue tenfold and has become a market leader in robotics products. The driving force behind their success over the years has been their dedication to engineering excellence. ATI's accomplished mechanical, electrical, and software engineers continue to raise the bar in quality, innovation, and productivity while their skilled support and manufacturing staff complete the team. The local economy continues to benefit from the company's makeup as the creation of quality technology and manufacturing jobs continues with the firm's growth.
Recognized throughout the world for quality and reliability, ATI products are improving productivity in an array of industries, including Robotics, Aerospace, Biomedical, Automotive, Electronics, Applied Research, Academics, Nuclear, and Governmental. ATI's Robert Little, CEO, credits the company's strong revenue growth to the diversity of customer applications that ATI serves. He said, "This diversity in our customer base coupled with our focus on innovation and customer service has allowed us to succeed in a sluggish global economy despite lower-cost competition from overseas. Over forty percent of our sales are exported to world markets and we expect that percentage to increase. We've created 50 new jobs since our 2011 expansion and this new expansion will create an additional 200 jobs."
ATI has received a variety of accolades and awards over the years including the 2009 and 2011 Progressive Manufacturing PM100 Award, which recognizes best-in-class manufacturers from the U.S. and abroad. For the seventh time in history, ATI was named to the prestigious Deloitte & Touche Technology Fast 50 Program for North Carolina, a ranking of the 50 fastest growing technology companies in North Carolina. ATI has also been awarded numerous patents for a variety of product innovations and improvements.
ATI Industrial Automation is the leading engineering-based world developer of robotic accessories and robot arm tooling, including Robotic Tool Changers, Multi-Axis Force/Torque Sensing Systems, Utility Couplers, Manual Tool Changers, Robotic Deburring Tools, Robotic Collision Sensors, and Compliance Devices. Manufactured entirely in the USA, ATI's products enable its customers to achieve a high level of flexibility in robotic automation. Their robot end-effector products are found in thousands of successful applications around the world. ATI's flagship product is the Robotic Tool Changer, a robotic wrist coupling that locks and unlocks automatically, allowing a single robot to perform many different tasks. ATI products are implemented in some of the world's most renowned corporations and organizations including NASA, Ford, Honda, and Johns Hopkins University.
For more information about ATI products and the operations expansion, contact Charles Haines, Marketing Manager, ATI Industrial Automation, 1031 Goodworth Drive, Apex, NC 27539, phone 919-772-0115, fax 919-772-8259, e-mail chaines@ati-ia.com, or visit our web site www.ati-ia.com.
Featured Product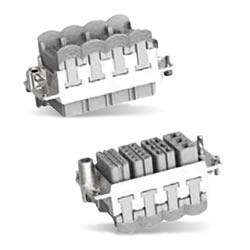 TE Connectivity's HDC Dynamic Module integrates the Dynamic series flexible signal and power solutions and the HDC Heavy Duty Connector series to form a solution of harsh environment connectors. TE's HDC Dynamic Module offers the top features of the two series. It uses the contact concept of the Dynamic series, with its proven performance in industrial uses and its cost effectiveness compared to legacy cutting contacts. The HDC connectors make the module a reliable solution for harsh environments. TE's HDC Dynamic Module supports 2A/32V to 40A/300V performance and 3 positions to 48 positions.