Fabricating Machinery Solutions is now a distributor of the eco-friendly Motorum series of turret punch presses, as well as a full line of Muratec automated loader options.
Charlotte, North Carolina October 17, 2013

Murata Machinery Fabrication Division's turret punch presses and automated loaders are getting a boost north of the United States border. Fabricating Machinery Solutions (FMS) has been added as a machine distributor for the Muratec brand in Canada exclusively from Ontario to the east, and non-exclusively in British Columbia and Alberta.
"We're excited about partnering with Fabricating Machinery Solutions to expand our presence in Canada," said Cary Teeple, sales manager at Murata's Fabrication Division. "FMS has a stellar reputation in the industry and a tradition of second-to-none service that dates back decades. We look forward to a long and beneficial relationship."
Fabricating Machinery Solutions is a distributor of steel fabricating equipment, accessories, tools and laser and plasma consumables. The company focuses primarily on sheet metal processing, structural fabricating, and the application of lasers in production.
FMS is offering the eco-friendly Motorum series of turret punch presses, as well as a full line of Muratec automated loader options. According to the FMS website, automated loaders can double the production of stand-alone machines, resulting in higher profitability through lower costs and improved job estimating.
FMS serves Ontario extensively from its base in Mississauga, Ontario, and through regional managers assigned to assist across Canada.
From its headquarters in Charlotte, N.C., Murata Machinery USA, Inc. specializes in applications, service and sales of turret punch presses. The company's Fabrication Division, formerly Murata Wiedemann, supplies mechanical and servo-driven turret punch presses. The Muratec dealer network throughout the United States, Canada and Mexico also distributes and services a complete line of automated stockers, loaders, and sorting equipment.
For additional information on Murata Machinery USA or its products, call 800-428-8469 or visit http://www.turretpunchpresses.com.
Featured Product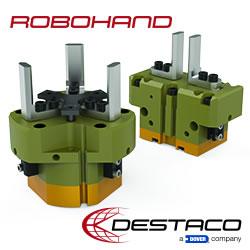 Automatically change end effector tooling quickly and easily with Destaco's Automatic Tool Changers. Designed with exceptional repeatability, high rigidity and load capacity, they are perfect for multiple tooling applications utilizing one robot. We offer different models and sizes to handle light-duty to heavy-duty applications. Our RQC/RTP Series provides a high level of flexibility with a configurable, modular design that accommodates up to four optional modular interfaces.