Morgan Advanced Materials (Morgan) announces the launch of Heat Flow, a completely enhanced online steady-state heat transfer calculator. market leading insulation and refractory products
PRESS RELEASE

June 2013
Morgan Advanced Materials (Morgan) announces the launch of Heat Flow, a completely enhanced online steady-state heat transfer calculator. The Heat Flow application allows users to simulate an unlimited number of heat transfer scenarios using Morgan's market leading insulation and refractory products, as well as other user-defined materials. Users can register to create and manage their own material databases and calculations, by visiting http://morganheatflow.com.
The Heat Flow application comes pre-loaded with nearly 400 products in ten categories offered by Morgan's Thermal Ceramics business, including Superwool® insulating fiber and Kaowool® fiber blankets, Pyro-Bloc® Modules, K® Insulating Fire Bricks, Kaocrete® and Kaolite® monolithics. Users will also have the ability to add other materials into a unique user-defined database to run calculations. The heat transfer calculations utilize the ASTM C680 formulas, with the latest 2010 revision, the international standard for estimating heat loss and surface temperatures, recognized by the mechanical and thermal engineering communities. In planned developments, the company will extend the service to other geographic regions over the coming months.
The new web-based Heat Flow application is compatible with most computer operating systems and web browsers. The material database will be regularly updated so users will always have immediate access to the latest information available.
The program allows users to save favorites and view or edit previous calculations; individual calculations can also be downloaded in PDF format. Mobile applications for smart phones and tablets are in development and are scheduled for launch in the near future.
________________________________________
About Morgan Advanced Materials
Morgan Advanced Materials is a global materials engineering company which designs and manufactures a wide range of high specification products with extraordinary properties, across multiple sectors and geographies.
From an extensive range of advanced materials we produce components, assemblies and systems that deliver significantly enhanced performance for our customers' products and processes. Our engineered solutions are produced to very high tolerances and many are designed for use in extreme environments.
The Company thrives on breakthrough innovation. Our materials scientists and applications engineers work in close collaboration with customers to create outstanding, highly differentiated products that perform more efficiently, more reliably and for longer.
Thermal Ceramics is a business of Morgan Advanced Materials, which has more than
10,000 employees across 50 countries serving specialist markets in the energy, transport, healthcare, electronics, security and defence, petrochemical and industrial sectors.
Morgan Advanced Materials (MGAM) is listed on the London Stock Exchange in the engineering sector.
For more information on Morgan Advanced Materials visit www.morganadvancedmaterials.com
For further information, please contact:
Kristin Nugent, Tel 617-367-0100 ext. 148
Kristin.nugent@mgr1.com
Scott Bentley, Morgan Advanced Materials
scott.bentley@morganplc.com
Tel +44 (0)1299 827000
Featured Product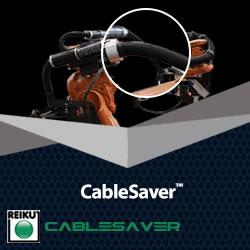 REIKU's Cable Saver™ Solution eliminates downtime, loss of revenue, expensive cable and hose replacement costs, maintenance labour costs. It's available in three sizes 36, 52 and 70 mm. All of the robots cables and hoses are protected when routed through the Cable Saver™ corrugated tubing. The Cable Saver™ uses a spring retraction system housed inside the Energy Tube™ to keep this service loop out of harms way in safe location at the rear of the Robot when not required. The Cable Saver™ is a COMPLETE solution for any make or model of robot. It installs quickly-on either side of the robot and has been tested to resist over 15 million repetitive cycles.