Using Advanced Design Technology TURBOdesign Suite Software
London, New York and Minneapolis, Minn. October 29, 2013

Advanced Design Technology (ADT), a global leader in the development of advanced turbomachinery design methods and the TURBOdesign Suite today announced that its customer, Daikin Applied of Minneapolis, Minn., a Fortune 1000 company and the largest heating, ventilation, air conditioning (HVAC), and refrigeration company in the world, is developing a new, ultra-efficient compressor design-potentially capable of achieving multimillion dollar performance gains-by using TURBOdesign Suite. Turbomachinery design engineers and original equipment manufacturers (OEMs) working to achieve higher performance levels to meet new U.S. and international efficiency standards can take advantage of the first commercially available 3D inverse design software system, TURBOdesign Suite.
"In general, one point of efficiency gain equates to about $1 million (U.S.) of profit," says Guy Phuong, Development Engineer at Daikin Applied. "Daikin Applied's target performance gain for this project using the TURBOdesign Suite software is 2.5 points of efficiency gain. We already have achieved more than a two-point compressor efficiency improvement."
As any building operations manager knows, the HVAC system represents a large percentage of a building's energy use. Since the 1980s, manufacturers of HVAC equipment like Daikin Applied have worked to make their systems more efficient. This was originally driven by rising energy costs and therefore customer demand. More recently, it was mandated by governmental standards like those set by the U.S. Environmental Protection Agency Engine Testing Regulations and Europe's Ecodesign Directive.
There are several methods for making HVAC systems that meet or exceed new standards, including making individual components such as air conditioning system compressors more efficient.
"Our 3D inverse design optimization technology provides innovative solutions while reducing development time and costs," said Professor Mehrdad Zangeneh, founder and managing director of ADT. "By using the TURBOdesign Suite, Daikin Applied engineers were able to apply the 3D inverse design approach to directly use knowledge of detailed fluid dynamics, as provided by computational fluid dynamics (CFD) and detailed measurements, to arrive at a breakthrough solution that met efficiency goals."
In the 3D inverse design approach enabled by the TURBOdesign Suite, the blade geometry is computed for a given pressure or loading distribution. Since 3D pressure distribution controls the viscous behavior of the flow, by controlling the 3D pressure field, it is possible to directly use the detailed information provided by CFD solutions to arrive at a choice of optimum loading and control particular sources of performance loss in turbomachines.
TURBOdesign Suite System Requirements, Availability and Pricing
TURBOdesign Suite runs on Windows systems. It operates on mid-range workstations with 2.4 Ghz or better processors, 2 GB RAM and 1Gb disk space.
The TURBOdesign Suite is now shipping. It is sold in modules starting from $15,000 USD with software training and technical support included.
About Daikin Applied
Daikin Applied delivers engineered, flexible solutions for commercial, industrial and institutional HVAC requirements with reliable products, knowledgeable applications expertise and responsive support. As part of Daikin Industries, a Fortune 1000 company, Daikin Applied is the largest air conditioning, heating, ventilating and refrigeration company in the world. For more information, go to: http://www.daikinapplied.com, or call: 800-432-1342.
About TURBOdesign Technology, Inc.
Founded in 2011, TURBOdesign Technology, Inc. (TDT) is the exclusive U.S. distributor for the Advanced Design Technology (ADT) turbomachinery design software, TURBOdesign Suite. TURBOdesign Technology is headquartered in New York, N.Y. For more information, call (347) 759-6103 or go to: http://www.turbodesign-tech.com.
About Advanced Design Technology
Advanced Design Technology (ADT) is a global leader in the development of advanced turbomachinery design methods, which helps not only to shorten development time but also to improve the performance of turbomachinery components. ADT's aim is to put designers in direct control of the aerodynamic design and to shorten, considerably, the design time and time to market for a range of turbomachinery products. ADT's clients, who represent some of the leading global players in the aerospace, automotive, power generation and marine fields, have achieved significant returns on investment in terms of reduction in design times, higher performance and ease of know-how transfer among different design teams and projects. For more information, call +44 (0) 20 7299 1170 or go to: http://www.adtechnology.co.uk.
Featured Product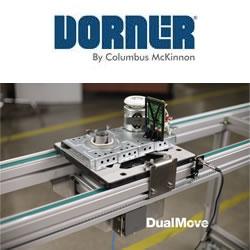 Dorner's 2200 Series Precision Move Pallet Systems are ideal for assembly automation. With features such as an innovative timing belt conveyor design and industry best pallet transfers, they get your product to the exact location, at the exact time and in the exact position it needs to be. They are now available with new options such as heavy load corner modules with 150 lb. capacity and 180 degree tight transfer corners for compact loops.