Craven is a seasoned professional capital equipment sales person with a strong engineering and AGV background.
PITTSBURGH, PA-Seegrid is growing. To accommodate this growth the company hired Charles Craven as regional sales manager and reports to Derek Roberts, Director of Sales. Craven will cover the Northeast region of the US.

Craven is a seasoned professional capital equipment sales person with a strong engineering and AGV background. Additionally, he is a committed team player who will support and add value to the whole Seegrid team as the company continues phenomenal sales growth.
Craven expressed his excitement about joining the Seegrid team, "I felt that joining the Seegrid team was a better fit for me and my potential within the AGV industry. The Seegrid team is an exceptional, knowledgeable, and exciting representation of corporate vision, which will enable the company to be at the top of the industry in both product and people."
John Hayes, Vice President of Sales and Marketing, North America, explained why the dramatic staff increase is necessary noting, "We have seen a 350% increase in Seegrid robotic industrial truck orders year to date when compared to 2012. Also known as flexible AGVs, this extraordinary growth is proof the manufacturing sector has recovered. Material handling and distribution centers are expanding quickly because the demand for our products has never been stronger. We are adding talented and experienced staff to ensure the quality and customer care continues to be a hallmark of our company, our brand, and our reputation."
One of the elements for the Seegrid growth model is the "Try before you buy program." It allows potential customers to see how the Seegrid technology operates in their plants and distribution centers or warehouses, assuring that it is the right product every time. Seegrid has eliminated the guess work in selecting an AGV.
About Seegrid:
Seegrid Corporation (www.seegrid.com) provides simple, affordable, flexible vision-guided automated guided vehicles (AGVs) to the material handling industry. Seegrid robotic industrial trucks, flexible AGVs, are revolutionizing the movement of materials in manufacturing and distribution environments. Seegrid automated pallet trucks and tow tractors optimize workflow processes by increasing productivity and reducing costs, creating economic and operational advantages. Robotic industrial trucks deliver a rapid return on investment, improve facility safety, and reduce equipment and product damage. Fast Company magazine named Seegrid as one of the Top 50 World's Most Innovative Company in 2013 and among the Top 10 World's Most Innovative Robotics Company in 2013. Follow Seegrid Corporation on Twitter at @Seegrid
Featured Product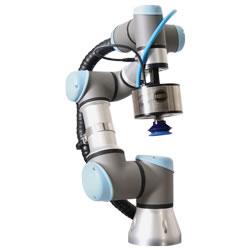 A variety of standard and custom options make the Bimba CRVT the perfect tool for your next collaborative robot project. This completely integrated plug-and-play solution is simple to operate and adds unparalleled flexibility to your collaborative robot.