One of the elements for the Seegrid growth model is the "Try before you buy program.
PITTSBURGH, PA-Seegrid is growing. To accommodate this growth, the company hired Bill Edgy as regional sales manager and reports to Derek Roberts, Director of Sales. Edgy will cover the Southeast region of the US.

Edgy shared his excitement about joining the Seegrid team, "The Seegrid technology of vision guidance will allow my customers to be more productive, more efficient, and better prepared to service customers' needs. This excites me for several reasons; it sets Seegrid apart from most of our customers and makes us a value added partner instead of just another vendor. Seegrid is constantly looking for product enhancements, new products, and new ways to apply the vision guided technology to other types of material handling equipment. All of these things increase sales and that really excites me."
John Hayes, Vice President of Sales and Marketing, North America, explained why the dramatic staff increase is necessary noting, "We have seen a 350% increase in Seegrid robotic industrial truck orders year to date when compared to 2012. Also known as flexible AGVs, this extraordinary growth is proof the manufacturing sector has recovered. Material handling and distribution centers are expanding quickly because the demand for our products has never been stronger. We are adding talented and experienced staff to ensure the quality and customer care continues to be a hallmark of our company, our brand, and our reputation."
One of the elements for the Seegrid growth model is the "Try before you buy program." It allows potential customers to see how the Seegrid technology operates in their plants and distribution centers or warehouses, assuring that it is the right product every time. Seegrid has eliminated the guess work in selecting an AGV.
About Seegrid:
Seegrid Corporation (www.seegrid.com) provides simple, affordable, flexible vision-guided automated guided vehicles (AGVs) to the material handling industry. Seegrid robotic industrial trucks, flexible AGVs, are revolutionizing the movement of materials in manufacturing and distribution environments. Seegrid automated pallet trucks and tow tractors optimize workflow processes by increasing productivity and reducing costs, creating economic and operational advantages. Robotic industrial trucks deliver a rapid return on investment, improve facility safety, and reduce equipment and product damage. Fast Company magazine named Seegrid as one of the Top 50 World's Most Innovative Company in 2013 and among the Top 10 World's Most Innovative Robotics Company in 2013. Follow Seegrid Corporation on Twitter at @Seegrid.
Featured Product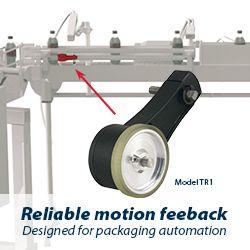 EPC is excited to announce our NEW online 3D Configurator. This new tool makes it even easier to configure EPC's products exactly how you need them for your application. The 3D Configurator interface is intuitive and works in any web browser for both desktop and mobile. It'll only take you a moment to learn your way around the program. Careful, though: it's so fun to play with, you may spend a whole afternoon on it!