Intelligrated hires David Erickson as vice president, software development, for Knighted subsidiary
(CINCINNATI: Dec. 3, 2013)-Intelligrated®(www.intelligrated.com), a leading North American-based automated material handling solutions provider, announces the hire of David Erickson as vice president, software development, for its N.Y.-based software subsidiary company, Knighted®(www.knightedsoftware.com).

With 23 years of experience in the supply chain and logistics industry, Erickson will manage Knighted application development teams to produce supply chain software solutions. He reports directly to Dan Napoli, senior vice president, research and development, Knighted.
"We're pleased to welcome David to Knighted," said Greg Cronin, executive vice president, Intelligrated. "His deep industry experience will help us leverage Knighted's unique technical innovations to deliver world-class software applications to our customers."
Before joining Knighted, Erickson held product development, implementation services and performance engineering positions for RedPrairie, helping grow the company from a 35-person shop to more than 1800 associates. He holds a bachelor's degree in computer science from Carroll University in Waukesha, Wis.
Knighted delivers an innovative suite of fulfillment execution systems that increase order fulfillment accuracy and velocity for the e-commerce, retail, food and beverage, 3PL, wholesale and consumer products industries. The Knighted suite includes warehouse management (WMS), warehouse control (WCS), order fulfillment, labor management and supply chain business intelligence software.
For sales and marketing information, contact Emily Smith, marketing supervisor, Intelligrated, by phone at (513) 881-5239 or by email at emily.smith@intelligrated.com.
For media information, contact Natalie Fioto, public relations, Koroberi, by phone at(919)945-0566 or by email at natalie@koroberi.com.
###
About Intelligrated
Intelligrated is a leading North American-based, single-source provider of intelligent automated material handling solutions that drive distribution and fulfillment productivity for retailers, manufacturers and logistics providers around the world. Through a broad portfolio of automation equipment, software, service and support, Intelligrated solutions optimize processes, increase efficiency and give businesses a competitive edge.
Intelligrated designs, manufactures, integrates and installs complete material handling automation solutions including conveyor systems, sortation systems, palletizers, robotics and order picking technologies - all managed by advanced machine controls and software. Solutions include industry-leading Intelligrated-manufactured Alvey®, RTS™ and IntelliSort® brand equipment and Knighted warehouse management (WMS), warehouse control (WCS) and labor management software.
Every project is backed by Intelligrated's 24X7 multilingual technical support and access to lifecycle service through a network of national, regional and local service centers. From concept to integration to lifecycle support, Intelligrated automation delivers distribution and fulfillment success. For more updates, follow us on Twitter @Intelligrated.
Featured Product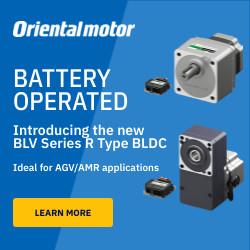 The BLE2 Series replaces our popular BLE Series and continues our brushless motor advantages by featuring an all new compact, high-power and high-efficiency brushless DC motor combined with a Driver that can be digitally set and controlled via external DC voltage or by the front panel. The BLE2 Series can easily compete with larger 3-phase inverter driven motors in many more applications, with built-in simple holding torque function, saving space and increasing performance thanks to the advantages of a brushless motor design. The BLE2 Series has a maximum speed of 4000 r/min, achieving a speed ratio of 1:50 (80 to 4000 r/min). The new motor structure is small than previous models and enables high power and high efficiency while incorporating easy setting, installation and wiring. The new motor connector offers IP66 degree of protection and allows for easy and direct connection between motor and driver with two available orientation of cable outlet direction. Standardized use of stain