RobotShop.com extends its reach into hobby and educational robotics by acquiring DiaLFonZo-Copter, a recognized leader in the design and production of multi-rotor UAVs.
Mirabel, Quebec, Canada. December 06, 2013

RobotShop announced today the acquisition of DiaLFonZo-Copter, a company established in Canada which designs and produces a variety of multi-rotor UAV copters.
In 2012, RobotShop bought Lynxmotion, a leading manufacturer and pioneer of educational robot kits. The products offered at that time were mostly designed to be operated on the ground. With the addition of drones / UAVs / multicopters, Lynxmotion's selection now extends into the sky.
"Combining RobotShop's online presence, sales force, manufacturing expertise and global logistics with DiaLFonZo-Copter's experience in Unmanned Aerial Vehicles will allow the Lynxmotion brand to extend its reach significantly" indicated Mario Tremblay, CEO of RobotShop. "There is a long list of exciting possibilities for drones in the near future and we are very excited to bring in new talent like Eric Nantel (a.k.a. "DiaLFonZo") to help us in this venture. His most popular product, the Hunter VTail, is a testimony to his ingenuity and creativity".
DiaLFonZo-Copter is a recognized leader in the design and production of multicopters including quadcopters, hexacopters and even octocopters. Its founder Eric Nantel is well known within the multicopter community as a pioneer in the design and development of UAVs.
"I feel very proud and lucky to have the chance to be part of the RobotShop / Lynxmotion team. The opportunities to create Drones / UAVs will be greatly improved by the expertise in manufacturing and logistics which RobotShop has acquired over the past years." indicated Eric Nantel. "Working together, we will have the strength and resources needed to provide a variety of really interesting products which will be backed by RobotShop's top quality service and support."
Eric Nantel is leading Lynxmotion's new UAV division and will help support the growing Lynxmotion community.
About RobotShop inc.
RobotShop is the world's leading robot store for personal and professional robot technology. It provides personal, domestic and professional robots, development platforms, kits, and specialized robotic parts. RobotShop is also an important source for robotics education and research.
For more information on RobotShop, please visit http://www.robotshop.com
About Lynxmotion
Lynxmotion is one of the oldest manufacturers of robotic kits, including robot arms, biped walking robots, quadrupeds, hexapods, tracked and wheeled vehicles, and more. The selection of products and guides are important tools for teaching and learning many different complex aspects in robotics.
For more information on Lynxmotion, please visit http://www.lynxmotion.com
About DiaLFonZo-Copter
DiaLFonZo-Copter specializes in designing and producing multi-rotor helicopter kits. These high performance UAVs are made of durable and lightweight G10 fiberglass composite with all-metal hardware and cater to the hobbyist and professional markets.
For more information on DiaLFonZo-Copter, please visit http://www.dialfonzo-copter.com
Featured Product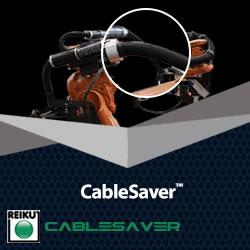 REIKU's Cable Saver™ Solution eliminates downtime, loss of revenue, expensive cable and hose replacement costs, maintenance labour costs. It's available in three sizes 36, 52 and 70 mm. All of the robots cables and hoses are protected when routed through the Cable Saver™ corrugated tubing. The Cable Saver™ uses a spring retraction system housed inside the Energy Tube™ to keep this service loop out of harms way in safe location at the rear of the Robot when not required. The Cable Saver™ is a COMPLETE solution for any make or model of robot. It installs quickly-on either side of the robot and has been tested to resist over 15 million repetitive cycles.