GloboTech Communications will provide the hardware and the network to help the team build its domestic robot.
Montreal, Quebec, Canada December 11, 2013

GloboTech Communications is pleased to announce a sponsorship to The Walking Machine Club, a project lead by the engineering students of «École de Technologie Superieure» in Montreal. GloboTech Communications will provide the server hardware and the network the students need to fulfill the project, as well as the support they may need from professionals in the industry.
The student's goal is to build a domestic robot that is 100% autonomous and to present it at the RoboCup@Home, an international competition that will take place in Brazil in 2014. This very high level competition aims to develop personal assistance robots in order to create the perfect assistant in everyday tasks.
A team of 24 members has been working on The Walking Machine for the last year. "Not only do the students learn important new skills related to their field of study, they also serve a social cause, the improvement of the tools for people with reduced mobility. Therefore, GloboTech Communications is proud to offer its support to the team" said Anthony Levesque, president of the company.
GloboTech Communications is one of Canada's most reliable hosting providers with a wide range of service and solutions, such as Managed Dedicated Servers, Colocation services, Private and Public Cloud, Server Management, Advanced Hosting Solutions and IP Transit. Currently, the company supports thousands of servers in its Montreal infrastructure, providing their expertise on standard and complex hosting solutions to thousands of customers around the world.
Featured Product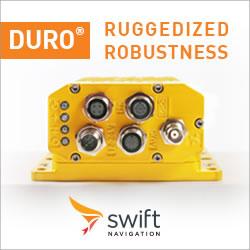 Duro® is a ruggedized version of the Piksi® Multi RTK GNSS receiver from Swift Navigation. Built to be tough, Duro is ideal for robotics applications and is designed for integration into existing equipment. This affordable, easy-to-deploy GNSS sensor is protected against weather, moisture, vibration, dust, water immersion and the unexpected that can occur in outdoor long-term deployments. Download the Duro vibration testing white paper from Swift Navigation.