Barrett Technology opens 2014 in its newly completed facility.
NEWTON, MA, USA -- January 7, 2014

Barrett's new location provides its engineering, R&D, and manufacturing operations with a custom designed space set up for efficiency and growth.
The historic renovated brick-and-timber building with beautiful architecture, high ceilings, and natural sky-lighting, makes a fitting and handsome space for Barrett's exceptional team.
The echoes of steam, pulleys, clashing gears, and the gritty environment of past industrial automation offer a perfect contrast to the sophistication, elegance, and silent operation of Barrett's advanced line of robotic systems and technology.
Barrett's proprietary zero-backlash, naturally backdrivable, silent gearless drive system
Barrett's robotic systems adjusting to their new home..
The new address is:
Barrett Technology
73 Chapel Street
Newton, MA, USA 02458
For more information, contact Laurie Vanelli at lv@barrett.com
Featured Product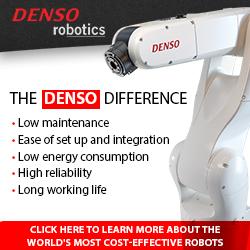 DENSO is the world's largest manufacturer - and user - of small assembly robots, employing over 17,000 of its robots in its own facilities. Over 77,000 additional DENSO robots are used by other companies worldwide. The compact, high-speed robots are used in traditional manufacturing sectors, as well as in advanced-technology applications in the medical, pharmaceutical and life sciences industries. Learn more about DENSO Robotics