Barrett Technology opens 2014 in its newly completed facility.
NEWTON, MA, USA -- January 7, 2014

Barrett's new location provides its engineering, R&D, and manufacturing operations with a custom designed space set up for efficiency and growth.
The historic renovated brick-and-timber building with beautiful architecture, high ceilings, and natural sky-lighting, makes a fitting and handsome space for Barrett's exceptional team.
The echoes of steam, pulleys, clashing gears, and the gritty environment of past industrial automation offer a perfect contrast to the sophistication, elegance, and silent operation of Barrett's advanced line of robotic systems and technology.
Barrett's proprietary zero-backlash, naturally backdrivable, silent gearless drive system
Barrett's robotic systems adjusting to their new home..
The new address is:
Barrett Technology
73 Chapel Street
Newton, MA, USA 02458
For more information, contact Laurie Vanelli at lv@barrett.com
Featured Product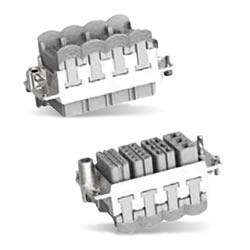 TE Connectivity's HDC Dynamic Module integrates the Dynamic series flexible signal and power solutions and the HDC Heavy Duty Connector series to form a solution of harsh environment connectors. TE's HDC Dynamic Module offers the top features of the two series. It uses the contact concept of the Dynamic series, with its proven performance in industrial uses and its cost effectiveness compared to legacy cutting contacts. The HDC connectors make the module a reliable solution for harsh environments. TE's HDC Dynamic Module supports 2A/32V to 40A/300V performance and 3 positions to 48 positions.