Barrett Technology opens 2014 in its newly completed facility.
NEWTON, MA, USA -- January 7, 2014

Barrett's new location provides its engineering, R&D, and manufacturing operations with a custom designed space set up for efficiency and growth.
The historic renovated brick-and-timber building with beautiful architecture, high ceilings, and natural sky-lighting, makes a fitting and handsome space for Barrett's exceptional team.
The echoes of steam, pulleys, clashing gears, and the gritty environment of past industrial automation offer a perfect contrast to the sophistication, elegance, and silent operation of Barrett's advanced line of robotic systems and technology.
Barrett's proprietary zero-backlash, naturally backdrivable, silent gearless drive system
Barrett's robotic systems adjusting to their new home..
The new address is:
Barrett Technology
73 Chapel Street
Newton, MA, USA 02458
For more information, contact Laurie Vanelli at lv@barrett.com
Featured Product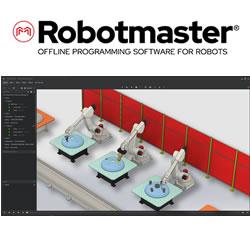 Robotmaster delivers unmatched, full-function off-line programming capability for robots - easy programming of precise robot motion control and quick generation of path trajectories of any size, with minimal programmer intervention. Our strong background in CAD/CAM (Computer Aided Manufacturing) software has enabled us to bring a revolutionary approach to programming industrial robots.