Wuhan Maxsine significantly reduced design cycles and greatly accelerated time to market
SAN JOSE, Calif., Jan. 15, 2014 -- Xilinx, Inc. (NASDAQ: XLNX) today announced that its Zynq®-7000 All Programmable SoC family enabled Wuhan Maxsine's EP3E servo drives. By taking advantage of the Zynq-7000 All Programmable SoCs ARM® dual-core Cortex™-A9 MPCore™ processing system with tightly coupled programmable logic, Wuhan Maxsine, China's leading servo drive control solutions provider, significantly reduced design cycles and accelerated time to market. Wuhan Maxsine Electric first launched and demonstrated POWERLINK EP3E series servo drives in November at China International Industry Fair 2013 (CIIF 2013). Based on Ethernet technology, POWERLINK is an ideal solution for applications in industrial robotics, CNC, textile, packaging, printing, electronic assembly or

"The highly-integrated Zynq-7000 All Programmable SoC is the key element behind the success of our new product shipment. We needed a cost-effective, yet extremely powerful one-chip solution to meet the harsh performance requirements of our applications," said Du Jiaxing, R&D director of Wuhan Maxsine. "The dual-core ARM processor, rich I/O and integrated DSP slices provide us with the high-performance computing, key interconnection and powerful processing capability we needed to bring our EP3E series servo drives to market."
"We are very happy that our Zynq-7000 All Programmable SoC platform enabled Wuhan Maxsine to become the first POWERLINK servo drive provider in China," said Barrie Mullins, director of SoC product management and marketing for Xilinx. "The Zynq-7000 All Programmable SoC provides all the necessary hardware, design tools, IP cores, and reference designs making it the ideal platform to bring continued innovation to the industrial automation industry."
About Xilinx
Xilinx is the world's leading provider of All Programmable FPGAs, SoCs and 3D ICs. These industry-leading devices are coupled with a next-generation design environment and IP to serve a broad range of customer needs, from programmable logic to programmable systems integration. For more information, visit www.xilinx.com.
Featured Product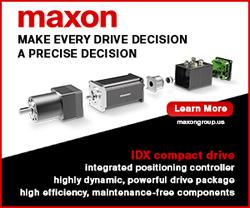 A brushless DC motor solution for use in hip and knee exoskeletons. This complete joint actuation unit consists of motor, gearhead, encoder and position controller. Fitting absolute encoder directly at the joint rotation provides designers increased positioning accuracy. The unit will deliver 54Nm of continuous torque and 120Nm on a 20% duty cycle. The system can be operated on supplies between 10 and 50V DC and the actuation speed is up to 22rpm.