Vigilant Line of Robots First of Its Kind in Production
DENVER, Feb. 10. 2014 -- Gamma 2 Robotics (www.gamma2robotics.com) makers of the Vigilant Security Robot, will be part of the prestigious Gartner CIO Forum (http://www.gartner.com/technology/summits/na/cio/) this month in Phoenix, AZ. The annual event features keynotes by industry leaders, workshops, panels, and new this year, the "Innovation Showcase" highlighting "technologies from exciting startups and mainstream vendors that are changing the way we sense, represent and interact with our world" [from the CIO Forum website.] Ten exhibitors will participate in the inaugural Innovation Showcase.

Gamma 2's robot, designed for autonomous security from its origins, is a perfect fit for data center protection. The robot will patrol continuously for daily 16-hour shifts, monitor environmental conditions, provide secure real-time video feed, and can be equipped with additional sensors to meet individual customer's needs.
Gamma 2's President Dr. Jim Gunderson, and CTO Dr. Louise Gunderson, will attend the Gartner CIO Leadership Forum and participate in the panel "Machines Are Reporting for Duty: Robotics for Enterprise Operations." These advanced security robots are a new technology, and Gartner has assembled experts to assist CIOs from around the world to get a better understanding of the benefits. This will include ways they can increase security and better protect their company's information and their customer's data in the cloud "With the recent problems seen by Target and Neiman Marcus, it is critical to remember that when we say that information in 'the cloud' we really mean that it is on a hard drive somewhere in the world, and that physical hard drive needs to be protected," said President Gunderson. "Security robots can be a powerful tool to protect that the Cloud."
"Currently we're hearing ROI projections between 9 and 18 months" he continued. "Generally that's with a 12-hour shift. Most ROI formulas are based on a 12-hour shift max. Our robot can perform 16 hours a day, every day, without sensory or performance degradation. And the robot doesn't want overtime pay or any more of a "break" than to recharge. Even then it will monitor the environment, check for motion, and alarm in real-time."
"Being able to connect with the industry leaders, the decision makers, and let them 'kick the tires' if you will, is vital when the technology is new and disruptive" said CTO Dr. Louise Gunderson. "Seeing the robot up close, touching it, and watching it perform assigned tasks takes the robot out of the realm of fiction and into reality. Our robot is real; it is a force multiplier, and it will change the way forward-looking leaders think about security."
President Gunderson highlighted the importance of high-tech security for today's data centers: "As the technology for securing critical corporate information becomes more sophisticated, it relies on the same infrastructure as the system it protects. Every byte of electronic information is written on a hard-drive somewhere, whether it is your dedicated server room or in the cloud, and some CIO has the responsibility of protecting that data. These advances mean that across the C-suite, more knowledge and understanding of the impacts and benefits of advanced security technology is needed.
Gamma 2 Robotics, Incorporated is a Denver, Colorado based company. For more information contact Pam Gheysar at 303.778.7400 or pgheysar@Gamma2Robotics.com.
Featured Product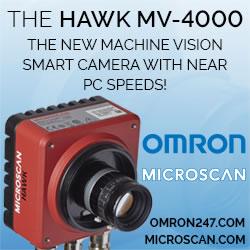 Awe-inspiring power and superior flexibility is sheathed within the contoured casing of the HAWK MV-4000. This smart camera builds upon the previous generation by quadrupling processing power and achieving real-time trigger response using an FPGA. Its state-of-the-art algorithms make it an excellent tool for any industry, whether the requirement be code reading, code verification, inspection, guidance, gauging or a combination of all four.