With the innovative nxtControl technology based on IEC 61499, the e-F@ctory Alliance of Mitsubishi Electric Europe is establishing new standards in industrial automation
LEOBERSDORF, Austria--e-F@ctory Alliance partner nxtControl is leader in distributed automation systems technology and a pioneer in automation solutions according to IEC 61499 standard since 2007. This standard deals with systems with distributed automation intelligence, as it is used in almost all applications nowadays. End-customers need to work with all sorts of platforms. This variety of distributed, decentralised systems is constantly increasing the costs of engineering, commissioning and maintenance.

nxtControl has created the best solution based on IEC 61499 and the seamless blend of different technologies to master this complexity. The integration of all pertinent automation tasks in one single tool makes nxtControl the most efficient and cost saving engineering tool for distributed automation architectures.
nxtControl is a key technology for the e-F@ctory Alliance of Mitsubishi Electric Europe. It provides an IEC 61499-compliant programming environment for the full suite of Mitsubishi Electric MELSEC iQ Platform control equipment. Mitsubishi Electric customers take benefit from the simple programming of distributed automation architecture for controls, motion, servo systems, HMIs etc. while ensuring highest level of interoperability and portability.
Thomas Lantermann, Senior Business Development Manager of Mitsubishi Electric B.V., Factory Automation - European Business Group emphasizes: "Control applications in distributed plant and equipment soon become very complex. An IEC 61499-compliant automation architecture is the right solution for developing and adapting complex systems."
To Horst Mayer, Managing Partner at nxtControl GmbH, the partnership within the e-F@ctory alliance offers an outstanding opportunity: "Together we support the dissemination and enforcement of a modern and unmatched efficient automation technology. The partnership opens the door to new international markets for nxtControl".
About nxtControl GmbH
nxtControl is developing advanced automation software products for buildings and industrial automation. The company is world leader in the IEC61499 distributed control technology. nxtControl products help to significantly reduce engineering efforts and to create more flexible solutions. The dynamically growing company has been established with the focus to improve automation engineering fundamentally.
Featured Product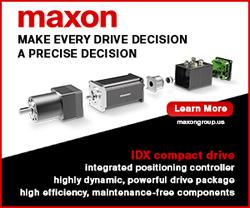 A brushless DC motor solution for use in hip and knee exoskeletons. This complete joint actuation unit consists of motor, gearhead, encoder and position controller. Fitting absolute encoder directly at the joint rotation provides designers increased positioning accuracy. The unit will deliver 54Nm of continuous torque and 120Nm on a 20% duty cycle. The system can be operated on supplies between 10 and 50V DC and the actuation speed is up to 22rpm.