Cable testers include test, location, identification, measurement, PoE and reporting features
March 4, 2014 (Lincolnshire, IL) - Klein Tools (http://www.kleintools.com), for professionals since 1857, expands its innovative Voice/Data/Video product line with its new full-featured Commander™ Series testers. This high-end product has extensive cable testing capabilities, TDR technology for distance to a fault measurement, Power over Ethernet (PoE) detection and testing, link status and capabilities, as well as report management functionality. With one tool, professionals can confidently determine the status of each wire in a data, PoE or communications/video system.

KleinTools_Commander_SmallSize
Klein Tools' Commander Series is made specifically for testing of coaxial, network or telephone cables. The Commander Series consists of two kits: The Commander™ Test Kit (VDV501-828) and the Commander™ Test & Tone Kit (VDV501-829). Product capabilities include:
· Test coaxial, data (RJ45) and telephone (RJ11) cables
o Identify wire faults including miswire, open, short, split-pair, reverse pair and verify shielding
o Wiremap - displayed in color per TIA-568A/B industry standard
· Measure cable length and distance to a fault with Time Domain Reflectometry (TDR) technology
· Detect, identify and test Power over Ethernet (PoE)
· Locate and identify cables with Location ID remotes for data and coaxial cables
· Test and identify location in one step with Test-n-Map™ ID Remote for data and telephone cables
· Identify a hub or switch or visually locate cable runs with Link Light
· Trace cables, wire pairs and individual conductor wires with Tone Generator (requires an analog tone tracing probe included in test & tone kit)
· Perform active network (Ethernet) testing - detect link speeds and capabilities
· Save, export and print up to 256 cable or network tests
"Our customers were looking for a comprehensive product that included all the necessary tests and functions to complete a high-end voice/data/video installation, without the big price tag of a 'certifier'," states Chris Niklas, product manager at Klein Tools. "Klein Tools' new Commander Series has complete cable testing capabilities, accurate cable measurements, PoE detection, cable location and ID, tone generator, Link Light, active network testing, and even room for hundreds of test reports."
For kit details or more information visit our website at www.kleintools.com or contact your local distributor.
Featured Product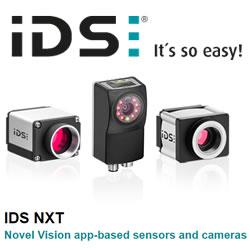 App Your Sensor®! What would smartphones be without apps? They would be mobile phones that can't do much more than make phone calls and sending SMS. Apps turn smartphones into intelligent assistants with any number of different tasks. Transferred into the world of image processing, this app-based approach transforms cameras and sensors into customised, smart vision sensors.