Colorado Springs-based 3 & 5 Axis CNC router designer & manufacturer, Diversified Machine Systems (DMS), introduces Fagor Automation's free CNC 8060 Simulator Tool available online. Fagor CNC Controllers are standard features on most DMS CNC Machine Centers.
Colorado Springs, CO March 06, 2014

Diversified Machine Systems, a leading US-based 3 & 5-axis CNC machine center designer and manufacturer in Colorado Springs, CO, announces Fagor Automation's CNC 8060 Simulator available at FagorAutomation.com.
The 8060 Simulator allows users the ability to utilize the intuitive Editor for offline programming using a host of software tools designed for easy program creation. The Interactive Editor allows the user to choose the type of operation needed in an Interactive method. The CNC Simulator then prompts a graphic example of the operation selected, and allows for seamless variable entry through a question and answer, fill-in-the-blank format.
"At DMS and for our DMS clients, the Fagor Simulator has become an increasingly valuable tool. We use the simulator to educate and train customers, especially new users in advance of receiving their machinery", explains DMS Executive Vice President & CSO, Ed Hilligrass. "Large and small companies alike use the simulator to gain a competitive edge, because it allows their engineers and sales team to quickly evaluate, create, and respond to bid packages."
As an advanced feature, the CNC Simulator allows users to setup the online tool as is the 8060 CNC Controller, and actual specific machine tools are configured utilizing a library of parameters, with all considerations of the type of machine, axes travels & machine dynamics included in the program creation and in the simulation of the finished program. The Simulator even takes into account the Feeds and Acceleration/Deceleration of the actual machine tool during the simulation, thus providing accurate machining cycle time estimates.
Upon completion, the user can upload and download the programs to the CNC Machine Tool. There are no program size limitations that can be created or uploaded to the CNC. The Simulator is available for most conventional Milling & Turning machine tool configurations. Fagor Automation has announced that a more advanced commercial version capable of more advanced machine configurations will be available in the near future.
Fagor Automation designed the free 8060 Simulator to be a useful tool for:
*Technical Trainings
*Editing/Simulation in Design Departments
*Machining Cycle time estimates
*Valuable for Quotation preparation
*Shop floor program creation for the Operator while Machine is in an active executing program
Fagor Automation is a worldwide manufacturer of CNC Systems, Servo Motors & Drives, Feedback Systems & DRO Systems and is a strategic partner with Diversified Machine Systems (DMS). DMS delivers custom 3-Axis and 5-Axis CNC Routers that include Fagor CNC Controls as a standard offering on most CNC machines.
For additional information about Diversified Machine Systems, please visit DMSCNCRouters.com.
About Diversified Machine Systems
Diversified Machine Systems (DMS) is a leading designer and manufacturer of 3 axis & 5 axis CNC routers and machine centers with headquarters in Colorado Springs, CO. With more than 30 years of innovation and industry experience as an Original Equipment Manufacturer, DMS' line of CNC routers and machining centers are routinely used on materials such as wood, composites, aluminum, steel, plastics, and foams. Renowned for quality and precision, our advanced machining centers are engineered to increase efficiency and productivity, while maintaining the quality and precision our clients have come to expect from DMS.
Featured Product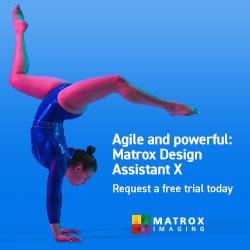 Agile and powerful Matrox Design Assistant® X takes the gymnastics out of vision application development. The flowchart-based software removes the need for coding; it's equally adept with simple application development or solving complex vision projects. Get a leg up with traditional vision tools to inspect, locate, measure, and read in images and 3D scans, plus deep learning tools