Proximity to Customers, Partners and Engineering Resources Are Key Drivers
ANN ARBOR, MICHIGAN. Stefan Nilsson, CEO of Güdel, Inc., the US subsidiary of Swiss based Güdel Group, announced today that the company has opened a satellite office in Troy, Michigan.

"We believe that being closer to our Metro Detroit customers and partners will improve our overall interaction and ability to collaborate on key projects," said Nilsson. "And being in the center of Automation Alley will help us attract the best engineering, project management and sales talent that is so critical to our continued growth."
The new Güdel satellite office is located in the Liberty Center complex, 50 West Big Beaver Road in Troy, just east of the I-75 interchange. The class A office space includes an option to double in size as business expands. The location is in close proximity to key automotive customers, line builders, robot manufacturers and systems integrators. The initial staffing will focus on sales, engineering and applications for Güdel's Press Automation and Powertrain business units.
Güdel Inc. is the US subsidiary of Güdel Group, a global manufacturer of robotic automation products, systems and services. Güdel supplies linear motion modules, robot track motion units, gantry robots and components to OEM's, systems integrators and machine builders serving the automotive, aerospace, logistics, heavy industrial and power generation industries. Güdel Inc. is located in Ann Arbor, Michigan in a dedicated 45,000 square foot facility, providing North American customers with engineering, design, production, and customer service support.
Güdel Group was founded in 1954. Headquartered in Langenthal, Switzerland, today Güdel operates in 21 locations worldwide.
Or more information, go directly to the Güdel website at www.gudel.com, or contact janice.milhem@us.gudel.com.
Featured Product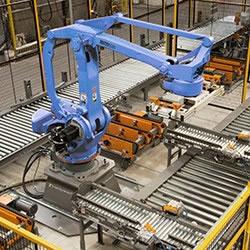 Honeywell Intelligrated has deep experience implementing robotic solutions that work seamlessly with existing automated equipment and is recognized by the Robotic Industries Association as a certified robot integrator. The company's extensive robotic integration capabilities include solution development, design engineering and project management, complete manufacturing capabilities, installation and commissioning, and lifecycle support services.