Engineers can discover the perfect bearing for their application with this unique new tool
March 17, 2014, East Providence, Rhode Island - Plastics specialist igus has announced the release of its dry-tech® box, an ingenious sample kit designed to help engineers find the right material bearing for their application. The box contains a set of state-of-the-art card overlays, which filter the bearing choices by criteria - similar to the igus online configurator.

The dry-tech sample box includes a complete array of iglide® bearings, ranging from iglide H, which is ideal in corrosive environments, to iglide A350, which can withstand temperatures up to 356 º F, and are perfect for the food industry. The box also contains a user-friendly bearing guide that highlights the key properties of each bearing making the search for the perfect bearing simple and precise.
All igus bearings have dry-running properties, making them lubrication-free, maintenance-free, cost-effective, and long-lasting. iglide bearings are all fully lab tested in the areas of durability, friction, and stability, and are at the core of igus' plastics development.
For more information on the dry-tech box or dry-running iglide bearings, visit the dry-tech page at www.igus.com/iglide.
About igus®
igus® develops industry-leading Energy Chain® cable carriers, Chainflex® continuous-flex cables, DryLin® linear bearings and linear guides, iglide® plastic bushings, and igubal® spherical bearings. These seemingly unrelated products are linked together through a belief in making functionally advanced, yet affordable plastic components and assemblies. With plastic bearing experience since 1964, cable carrier experience since 1971 and continuous-flex cable since 1989, igus provides the right solution from over 80,000 products available from stock. No minimum order required. For more information, contact igus at 1-800-521-2747 or visit www.igus.com.
Featured Product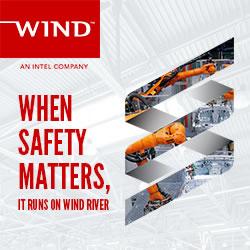 When it comes to ensuring the development of can't-fail systems, Wind River® is a leader with a proven track record of success. With more than 30 years of experience in embedded software and a portfolio of products deployed across more than 2 billion devices, Wind River delivers safety and security when it counts most. From industrial automation to automotive systems, as well as in healthcare devices, railway operations, and throughout the aerospace and defense sector, Wind River has extensive expertise providing built-in safety for complex, connected, safety-critical systems.