Industry leaders to explore important questions about this new field
(Ann Arbor, Michigan, USA - March 25, 2014) Collaborative Robots, or robots that work side by side with humans, are the hottest topic in robotics right now. To learn about the technology, applications, safety implications, and human impacts of this major advancement in the field, the Robotic Industries Association (RIA) is organizing a Collaborative Robots Workshop on Wednesday, April 16, 2014 at the Hynes Convention Center in Boston.

"Collaborative robots are an exciting and innovative addition to the traditional robotics industry," said Jeff Burnstein, President of RIA. "But, because collaborative robots are new, there are lots of important questions that users and integrators have, which is why we've decided to bring together leading experts to address the key topics at this workshop."
Dr. Henrik Christensen of Georgia Tech, one of the world's foremost robotics experts, will give the opening keynote talk. Representatives from leading companies such as Rethink Robotics, Universal Robots, Yaskawa Motoman, KUKA, and iRobot will also give presentations on the current and future status of the field. Top robotics researchers from MIT and NIST will discuss leading research issues. "We're packing a lot into one day in order to make this a comprehensive overview of collaborative robots," Burnstein noted.
As a bonus, all attendees will receive free admission to The Vision Show, North America's leading vision and imaging event. Vision is a key element of the future of collaborative robots. The Vision Show is being held April 14-16, 2014 also at the Hynes Convention Center in Boston.
Early bird registration rate is $595. ($645 if registering after April 1, 2014.) For complete details and registration information, click here.
For more information on attending the Collaborative Robots Workshop as a member of the press and to schedule interviews with speakers in advance, please contact Bob Doyle at (734) 994-6088 or bdoyle@a3automate.org.
About Robotic Industries Association (RIA)
Founded in 1974, RIA is a not-for-profit trade association dedicated to improving the regional, national and global competitiveness of the North American manufacturing and service sectors through promotion and enhancement of robotics and related automation. RIA represents 325 robot manufacturers, system integrators, component suppliers, end users, consulting firms, research groups, and educational institutions. The association hosts a number of events including the biennial Automate Show & Conference (March 23-26, 2015 in Chicago), the National Robot Safety Conference (October 2014) and the Robotics Industry Forum (January 21-23, 2015 in Orlando, FL). RIA also provides quarterly robotics statistics and has a content-rich website, Robotics Online. For more details on RIA, visit www.robotics.org or call 734/994-6088.
About Association for Advancing Automation (A3)
The Association for Advancing Automation is the global advocate for the benefits of automating. A3 promotes automation technologies and ideas that transform the way business is done. A3 is the umbrella group for Robotic Industries Association (RIA), AIA - Advancing Vision + Imaging, and Motion Control Association (MCA). RIA, AIA, and MCA combined represent 750 automation manufacturers, component suppliers, system integrators, end users, research groups and consulting firms from throughout the world that drive automation forward.
For more information, please visit our websites: A3 - www.A3automate.org. RIA - www.robotics.org. AIA - www.visiononline.org. MCA - www.motioncontrolonline.org.
Featured Product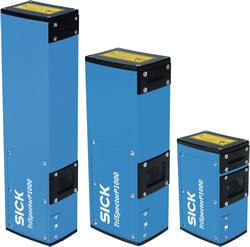 LiDAR (Light Detection and Ranging) is one of the most reliable methods for parts sensing in factory automation today. SICK has made this technology affordable and easy to use! Click on the video link below to learn about the TiM1xx LiDAR sensor and how it provides: - Area scanning LiDAR technology in a standard sensor package - 200-degree field of view and 3 meter sensing range allows for 169 square feet of area scanning - Compact size and light weight enables ease of deployment in "non-standard" type applications, like end-of-arm robotic tooling - Wide area scanning without having to mount a transmitter and receiver makes installation much easier - IO Link for easy configuration