DEARBORN, Mich., April 3, 2014 -- With the spotlight on manufacturing recently and a push to grow and train the workforce, this is an exciting and critical time for the industry to understand the latest technologies and work together to drive success and innovation. THE BIG M Event is positioned to highlight and educate on key manufacturing topics through exhibits, conference sessions featuring industry experts, company tours and demonstrations. Produced by SME, THE BIG M is slated for June 9 to 12 at Detroit's Cobo Center

"THE BIG M is more than an event," said Debbie Holton, SME managing director of industry strategy and events. "This is an unprecedented gathering of stakeholders that will drive a movement toward building a strong future for manufacturing."
"THE BIG M communicates a strong message to the marketplace about innovation and technology. It is designed to convene manufacturers around the industry's most vital concerns and leverage the power of collaboration and knowledge to address those issues," Holton added.
This event will bring together all things advanced manufacturing, covering innovation, digital factory, cybersecurity, new technology, talent, 3D printing, globalization, modeling, simulation and sustainability. This can't be done solely through exhibits and panel discussions so THE BIG M will have dynamic experiences covering these core manufacturing topics.
M
Featured Product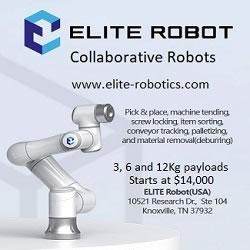 ELITE ROBOT lightweight 6-axis collaborative robots have payloads of (3kg, 6kg, and 12kg cobots). ELITE ROBOT cobots have gained a positive reputation among users in the Automotive, Electronics, Packaging Logistics, Metal Processing, Rubber & Plastics, chemicals, and other industries. The EC series robots start at $14,000 USD making it one of the fastest ROI in the industry. The EC robots come complete with 6 DOF arm, control box, teach pendant and software.