The 3M Company, Google, and United Technologies Named Strategic Partners of Global, Not-For-Profit, K-12, STEM Organization
MANCHESTER, N.H.--FIRST® (For Inspiration and Recognition of Science and Technology), a global not-for-profit organization founded by inventor Dean Kamen to inspire young people's interest and participation in science, technology, engineering, and math (STEM), announced 3M, Google Inc., and United Technologies (UTC), as Strategic Partners. The three companies support FIRST alongside a strong network of other corporations, foundations, educational and professional institutions, and individuals. Strategic Partners of FIRST are recognized for providing support at the highest level, and giving in a variety of ways such as financial contributions, in-kind donations, and employee volunteerism and mentoring.

"FIRST is proud to have 3M, Google, and United Technologies as Strategic Partners in our mission to inspire young people to become innovative leaders in science and technology," said Donald E. Bossi, president of FIRST. "Each of these esteemed companies has a long history of supporting FIRST, and we are grateful for their ongoing and impactful contributions."
3M, Google, and UTC will join 14 other FIRST Strategic Partners as companies that have been recognized for their extraordinary levels of giving. Together, these companies provide significant funding, mentorship time and talent, volunteerism, equipment, and more to enhance the reach and overall impact of FIRST.
Announcing FIRST Strategic Partners:
3M
Since 2003, 3M has provided millions of dollars to FIRST through its cumulative support of annual in-kind donations, resources, technology, training, and employee volunteerism.
The company is also recognized as a Global Program Sponsor for FIRST® LEGO® League (FLL®). Through the collaboration between 3M, LEGO®, and FIRST, an estimated 205,000 students in the 2013/2014 FLL competitions worldwide will gain hands-on experience in project-based learning. 3M donates the Dual Lock product to the FLL Field Setup Kits each season.
Additionally, 3M is a Crown Supplier of the FIRST® Robotics Competition (FRC®), donating products from 3M Industrial Tapes and Adhesives, Electronic Solutions, Electrical Markets, Occupational Health and Environmental Safety, and Traffic and Security Divisions to the 2014 Kit of Parts. 3M also sponsors the FRC Minnesota North Star Regional in Minneapolis, Minn., and supports 35 teams across the U.S., chiefly in St. Paul, Minn., home of 3M Corporate Headquarters.
Most recently, the St. Paul, Minn.-based company secured prominent space for the FIRST logo and website URL on the hood of the No. 16 Ford Fusion, driven by NASCAR driver Greg Biffle at the Pure Michigan 400 Sprint Cup Race in Brooklyn, Mich. on August 18, 2013. This unique opportunity increased awareness of FIRST among previously untapped audiences.
Google
Google has provided funding for FIRST teams and Mentors for nearly a decade. Over the years, the Mountain View, Calif.-based company's support has grown significantly, including funding regional FIRST events throughout North America, and providing a generous $3 million grant to fund the FIRST Green e-watt saver, a fundraising program that has enabled FIRST teams to raise over $1M by selling energy-efficient LED light bulbs.
With millions of dollars already committed to FIRST, Strategic Partner status identifies Google ongoing and extraordinary commitment to the organization through its cumulative support of teams, annual in-kind donations, resources, technology, and employee involvement.
United Technologies (UTC)
UTC has been supporting FIRST for more than 18 years. Since 1995, the company has been instrumental in introducing students to the limitless opportunities available in engineering and technology careers through hands-on engagement. Based in Hartford, Conn., UTC has provided continuous financial and personnel support to FIRST, investing millions of dollars and countless volunteer hours in the organization. The company diligently encourages employee volunteerism for FLL, FIRST® Tech Challenge (FTC®), and FRC events and teams in the areas surrounding UTC facilities.
Additionally, UTC is officially recognized as a Sponsor of the annual FIRST Championship event, an FRC Team Sponsor, and the Title Sponsor of all Connecticut regional events.
Currently, the company sponsors 80 teams at the middle and high-school levels in the United States and Canada. In addition, more than 180 UTC volunteers are mentoring teams and coordinating regional events. UTC has also contributed to the global expansion of FIRST, funding two Regional Competitions in the U.S. and a National Championship in India.
The 2014 FIRST Championship event will take place in St. Louis, Mo. April 23-26, 2014: http://www.usfirst.org/roboticsprograms/first-championship.
About FIRST®
Accomplished inventor Dean Kamen founded FIRST® (For Inspiration and Recognition of Science and Technology) in 1989 to inspire an appreciation of science and technology in young people. Based in Manchester, N.H., FIRST designs accessible, innovative programs to build self-confidence, knowledge, and life skills while motivating young people to pursue opportunities in science, technology, and engineering. With support from over 200 of the Fortune 500 companies and more than $19 million in college scholarships, the not-for-profit organization hosts the FIRST® Robotics Competition (FRC®) for students in Grades 9-12; FIRST® Tech Challenge (FTC®) for Grades 7-12; FIRST® LEGO® League (FLL®) for Grades 4-8; and Junior FIRST® LEGO® League (Jr.FLL®) for Grades K-3. Gracious Professionalism® is a way of doing things that encourages high-quality work, emphasizes the value of others, and respects individuals and the community. To learn more about FIRST, go to www.usfirst.org.
Featured Product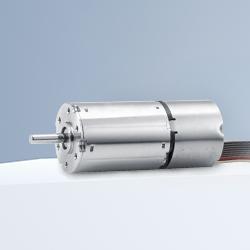 MICROMO launches the new MC3/MCS motion control family. The new high performance, intelligent controllers are optimized for use with FAULHABER motors, offer electronics for simple operation with state-of-the-art interfaces for multi-axis applications, and provide a motion control system solution with the most compact integration into industrial grade housing.