ASMEs Advanced Design & Manufacturing Impact Forum
LONDON--TechNavio, a global tech-focused research firm has announced the publication of its Global SCARA Robot Market report, ahead of ASMEs Advanced Design & Manufacturing Impact Forum from August 17th-20th, in Buffalo, New York.

SCARA Robot Market
A SCARA robot is a horizontally configured robot capable of performing horizontal movements. Since these robots do not have rotary joints, their movements are restricted to the horizontal axis. These robots can perform flexible horizontal motions while they are fixed vertically.
SCARA robots are being adopted across industries for various applications such as in clean rooms for wafer and disk handling purposes (particularly in the Electrical and Electronics industry) and in the assembly process in the Automotive and Electrical and Electronics industries. These robots are ideally suited for horizontal operations with limited scope for vertical movements. As a result of their versatile configuration, SCARA robots have several advantages over Cartesian, cylindrical, and spherical robots.
TechNavio's analysts forecast the Global SCARA Robot Market will grow at a CAGR of 4.38 percent over the period 2014-2018.
Other Robotics Reports
TechNavio covers a variety of different markets where mobile robotics is likely to have a great impact:
* Global Articulated Robots Market 2014-2018
* Global Industrial Robotics Market 2014-2018
* Global Military Robots Market 2014-2018
* Global Machine Vision and Vision Guided Robotics Market 2014-2018
Mobile Robotics Survey
The objective of TechNavios reports is to understand the current and future market for robotics across various areas of interest such as development, manufacturing, operations and functioning. The survey on mobile robotics is an initiation toward a full study due for release later this year. The results can be downloaded and viewed for free by clicking here.
Key Questions Covered in the Survey:
1. What are the new age features that could define the growth of the mobile robotics market?
2. What are the associated technologies that could influence the growth of this market?
3. What are the estimates on the current and future market in terms of size and revenue for mobile robotics, based on application and geographical segmentation?
4. Which applications segments are expected to grow rapidly?
5. Which end user segments are expected to grow rapidly?
6. What are the technological lacunae that are the affecting the adoption rates of mobile robots?
7. With price of the robot being a huge detriment to the growth of this market, how would you suggest the costs be controlled?
Key Respondents:
*Companies which are into the development and manufacturing of Mobile
Robotics.
*Companies using Mobile Robotics for their operations and functioning.
Key Geographies:
*North America
*EMEA
*APAC
TechNavio currently has more than 3000 market research reports on a huge range of topics including the consumer electronics, consumer electronic biometrics and consumer NAS markets. If you are interested in more information, please contact our media team at media@technavio.com.
Featured Product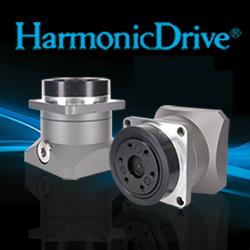 Harmonic Drive LLC, a leader in high precision motion control introduces new lightweight versions of select gearhead products. The new gearheads are ideal for designs where weight is a critical factor. Building on the success of Harmonic Drive LLCs current gear units, new lightweight versions were the next logical evolution of the CS/ SH product lines. With weight reductions of 20-30% without any reduction in torque ratings, the Lightweight (LW) gear units provide exceptional torque density.