Dedicated Expo space and time will provide an opportunity for youth robotics teams to demonstrate their skills. Students and accompanying teachers/adults are invited to visit the STEM Showcase on Tuesday, September 16, from 3:00 – 6:00 p.m.
Minneapolist, Minnesota August 22, 2014

When robot professionals and enthusiasts gather for the 2014 Robotics Alley Conference & Expo on September 16-17 at the Minneapolis Marriott Northwest, theyll be treated to a special showcase of student achievements in Science, Technology, Engineering and Math (STEM), sponsored by NPC Robotics.
Students of all ages, from grade schools to universities, have been invited to exhibit their robots and technology projects in a dedicated area of the Expo floor. The STEM Showcase will highlight youth robot teams, robotics education programs and other hands-on displays. In addition, the STEM Showcase has expanded in 2014 and will include a Women in STEM panel.
Conference attendees will be able to learn more about STEM education initiatives and university research in the Midwest and beyond. The Showcase is also expected to facilitate connections between student teams and sponsors/mentors, high school students and recruiting universities, and employers and recent/future college graduates.
Students will also have the opportunity to interact with attendees and nationally acclaimed speakers.
The STEM Showcase will take place on Tuesday, September 16, and will be open to the public from 3:00 - 6:00 p.m. Groups attending include High Tech Kids, FIRST, Green Girls (7190), and The Works Museum.
For more information or to register, visit http://www.roboticsalley.org.
About Robotics Alley
Robotics Alley™ is an initiative to spur public-private partnerships in the business, research, and development of world-leading robotics and automation systems. The leading companies, organizations, universities, and individuals working together through Robotics Alley are involved in some of the worlds most innovative and promising robotics projects. Robotics Alley is owned and produced by The Event Group, a full-service event production and marketing agency based in Minneapolis.
Featured Product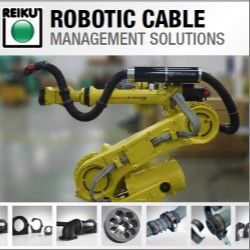 REIKU's Cable Saver™ Solution eliminates downtime, loss of revenue, expensive cable and hose replacement costs, maintenance labour costs. It's available in three sizes 36, 52 and 70 mm. All of the robots cables and hoses are protected when routed through the Cable Saver™ corrugated tubing. The Cable Saver™ uses a spring retraction system housed inside the Energy Tube™ to keep this service loop out of harms way in safe location at the rear of the Robot when not required. The Cable Saver™ is a COMPLETE solution for any make or model of robot. It installs quickly-on either side of the robot and has been tested to resist over 15 million repetitive cycles.