From 3D printing and Xbox to robotics and digital currency, Minnesota's plans to host Expo 2023 puts our innovative culture center stage. Wendy Meadley, communications lead for Expo 2023: The Minnesota Worlds Fair, invites Minnesota state fair attendees to stop by the booth and experience 3D printing, and Bitcoin's digital currency first hand.
Minneapolis, Twin Cities Minnesota August 28, 2014

Momentum is building for our bid to host Expo 2023: Minnesotas World Fair. State Fair visitors can get a glimpse at the plans being developed by stopping by the Expo 2023 booth in the Grandstand - on the ground level on the west side. In addition to seeing examples of some of Minnesotas most innovative technology - like 3D printing from Stratasys - visitors can also participate in the selection process for the theme using the latest Xbox Kinect technology. The use of "crowd sourcing" to gather ideas for the theme is just one of the ways that Expo 2023 is using new technology to engage Minnesotans. Crowd funding is also a new feature, something that has never been used for a global event such as this.
"We are making it easy and fun for fairgoers to actively participate in bringing a Worlds Fair to Minnesota," says Wendy Meadley, strategic communications lead for Expo 2023: The Minnesota Worlds Fair. "People are excited to know that they can help bring the 2023 World Fair here to Minnesota."
Expo 2023 has also broken new ground by accepting contributions through Bitcoin payments. "Creating a truly visionary Worlds Fair here in Minnesota requires looking into the future. We can already see that digital currency is one of these exciting innovations," shares Meadley.
Expo 2023s state fair booth is being staffed by volunteers from some of Minnesotas most forward-thinking businesses and organizations. "Several of our members from MN Women In Networking (WIN) volunteered at the Expo 2023 booth. It was fun to talk with people who had been to a prior World's Fair because they could understand the scope of what this will mean for Minnesota," commented Teresa Thomas, director of WIN. "Can you imagine bringing the World's Fair here in 2023? How exciting!"
About Expo 2023
Expo 2023 is a campaign to bring the 2023 Worlds Fair to Minnesota. We are a citizen committee that has enjoyed the support and volunteer effort from thousands of Minnesotans. We need your support and participation! For more information, visit http://www.expo2023.info.
About Indiegogo
Indiegogo is a way for people all over the world to join forces to make ideas happen. Since 2008, millions of contributors have empowered hundreds of thousands of inventors, musicians, do-gooders, filmmakers—and many more—to bring their dreams to life.
Indiegogo is democratizing the way ideas get funded and become reality. We have a simple mission: to empower everyone to change the world one idea at a time. Some Indiegogo campaigns are small and personal. Some are large and mainstream. Each campaign is moving forward because it is supported by a community of people with a common goal. Learn more at http://www.indiegogo.com.
Contact: Expo 2023 Wendy Meadley Strategic Communications Lead 763.360.2403 wendy(at)expo2023(dot)info
Featured Product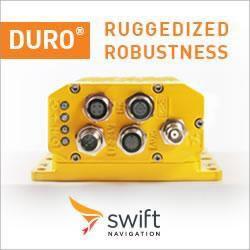 Duro® and Duro Inertial are enclosed dual-frequency RTK GNSS receivers. Designed and built to survive long-term, outdoor deployments, the easy-to-deploy Duro and Duro Inertial combine centimeter-accurate positioning with military ruggedness at a breakthrough price. Duro Inertial features an integrated IMU for continuous centimeter-accurate positioning in the harshest of outdoor deployments.