September 8-13th KUKA Robotics will show Cutting, Welding, Machine Loading and Unloading, & Vision Guided Robotics at IMTS 2014 booth N6200
IMTS 2014

SHELBY TOWNSHIP, Mich. & CHICAGO-Visit KUKA Robotics in booth N6200 during the International Machine Tooling Show to see how KUKA Robots can "See it, Cut it, Weld it, Load and Unload it" showing how automation can bring efficiency to the manufacturing process.
Get up close and personal with the complete KR AGILUS family of small robots on display. The KR AGILUS is unique in its payload category; setting new standards with 6 axes, very high speeds, short cycle times, integrated energy supply system - for the first time in North America all three models will be shown side by side, the KR6 R700, KR6 R900 and the KR10 R1100. The KR AGILUS family; masters of unusual tasks whether installed on Floor, Wall or Ceiling.
KUKA Robotics In-booth Demonstration at IMTS 2014 will include:
NEW! GENOS Lathe with Vision Guided Part Conveyance
In a demonstration showcasing several members of OKUMA Partners in THINC program, (OKUMA, Reinshaw, Schunk, Caron Engineering, Kitagawa and Official KUKA Robotics System Partner Gosiger Automation) features a KR AGILUS KR6 R900 using KUKA VisionTech for part location, gauging with a Renishaw Equator and robotic loading and unloading of an OKUMA GENOS Lathe.
NEW! KR AGILUS KR 6 R900 Sixx demonstrating CNC lathe tending
This cell demonstrates the speed and agility this small robot was designed for by minimizing the cycle time while tending a CNC machine tool incorporating vision inspection and post machining part deburr. End of arm tooling is a dual gripper for quickest possible part change.
NEW! The Integrated Robotic Plasma Cutting
In a technology partnership with Official KUKA Robotics System Partner Arc Specialties and ESAB NA showcasing a KR16 L8 HW. The KR16 L8 HW will be doing live plasma cutting, showcasing the single axis head stock / tail stock design permits rotational cutting of complex parts, with pre- programmed cutting geometry with desired part dimensions requires no teaching of the robot.
NEW! Arc Welding Demonstration
In a simulated fixtureless welding demo a KR210 R3100F will simulate arc welding on motorcycle frame using 2 KR5 R1400 utilizing RoboTeam cooperating motion.
NEW! Force Torque Demonstration
Features a KR6 R700 in a demonstration designed and created by Official KUKA Robotics System Partner Midwest Engineering showcasing KUKA.ForceTorque. The KR6 R700 will demonstrate a precision assembly process of spool insertion into a sleeve.
NEW! KUKA KORE Official Robotic Education Portable Education Cart
KUKA Robotics introduces the new KORE Official Robotic Education cart designed to support the education markets need to make robotics a KORE part of their STEM education programs.
NEW! Precision Micro Cleaning Demonstration
This cell will feature new CO2 based precision micro cleaning technology in a solution provided by KUKA Robotics System Partner Reliabotics. The cell utilizes an Agilus KR 6 R900 in the Reliabotics Fortimo MPP (multi purpose platform) cell which is being introduced to the market at IMTS.
KUKA Robots in demonstrations on the IMTS show floor are:
ARC Specialties #N-6044
ATI Industrial Automation # N-6429
Caron Engineering #E-5640
Current EDM #E-5257
DMG/Mori Seiki - #S-8900
ESAB North America #N-6129
Fermat Group & TOS America, Inc. #S-9259
In-House Solutions #N-6425
RobotMaster #N-6793
Schunk #W-2000
SIC Marking #N-6454
Siemens Industry, Inc. #E-5010
To learn more about KUKA Robotics IMTS demonstrations visit: http://www.kukaconnect.com/
About the KUKA Robot Group
KUKA Robotics Corporation along with KUKA Roboter GmbH, Augsburg Germany (part of the KUKA Aktiengesellschaft group of worldwide companies), ranks among the world's leading suppliers of industrial robots and material handling vehicles. Core competencies include the development, production, and sale of industrial robots, controllers, software, linear units, and omniMove™ omni-directional motion platforms. KUKA robots are utilized in a diverse range of industries including the appliance, automotive, aerospace, consumer goods, logistics, food, pharmaceutical, medical, foundry and plastics industries as well as multiple applications including material handling, machine loading, assembly, packaging, palletizing, welding, bending, joining, and surface finishing. KUKA robots range from 5kg to 1300kg payloads, and 635mm to 3900mm reach, all controlled from a common PC based controller platform. KUKA Roboter GmbH employs about 3400 people worldwide. In 2013, sales totaled 754,1 million Euro. 28 subsidiaries provide a presence in the major markets of Europe, America and Asia.
Featured Product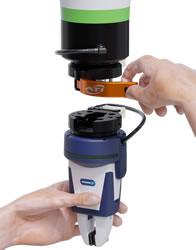 Simpler, stronger, and more precise. ATI Industrial Automation has developed a series of Manual Tool Changers that provides a cost-effective solution for quickly changing tools by hand. They feature a unique design that combines high strength, excellent repeatability, and a patent-pending screw-cam locking mechanism with multiple fail-safe features, which resists vibration and prevents loosening. These robust and compact Manual Tool Changers can handle payloads up to 80 pounds (36 kg) and pass pneumatics and electrical signals.