New technologies such as 3D printing, Robots and Big-Data, bringing 82% of manufacturers closer to their customers
BERLIN, Sept. 15, 2014 -- CoreNet Global EMEA Summit -- The emergence and adoption of new technologies, including 3D printing, Collaborative Robots and Big-Data, are now the driving forces in global manufacturing, according to new research launched today at The CoreNet Global EMEA Summit, being held in Berlin. This is leading to businesses focusing on proximity to customers and the need for increasingly flexible supply chains.

Colliers International, the global property adviser behind the report, has revealed how consumer demand and advances in technology are driving a fast-approaching industrial revolution led by a society demanding mass-customisation.
As technological innovations like 3D printing, Collaborative Robots and Big-Data drive the era of mass customisation, 82 per cent of manufacturers now consider proximity to the end-customer as vital to their business model. According to the report, Getting Closer to Customers, this is leading to more diverse business locations and increasingly flexible supply chains to enable manufacturers to service their consumers better and faster, and add the required level of flexibility and efficiency to their manufacturing processes. 77 per cent of manufacturers believe flexibility of the supply chain is their main challenge posed by mass customisation.
As these technologies are increasingly adopted, they may also reduce the levels of storage and production space required by businesses, as growing automation and more flexible, less invasive robot machine impact the design and configuration of production and warehousing spaces. Less space is required for the same level of output.
Guy Douetil, Managing Director of EMEA Corporate Solutions, Colliers International said: "Technologies including 3D printing, Collaborative Robots and Big-Data are re-defining manufacturers' supply chains and real estate criteria by reducing space requirements and providing opportunities to reduce the labour cost per unit.
"Consumer demand for speedy delivery of customised products, coupled with the rising labour costs in markets typically associated with mass production, has the potential to alter the global balance of power in manufacturing, as businesses increasingly bring their production facilities closer to their customers in growing domestic markets. This move towards decentralised production could lead to emerging economies, such as China, losing the status 'factory of the world'."
According to Colliers' research, the effects of these shifts are already visible in the supply chain. A significant 62 per cent of manufacturing companies consider robots important in their production process, with 64 per cent looking to increase automation in the next three years. Of those manufacturers that repatriated in 2013, 83 per cent identified proximity to their consumers as a top three factor affecting their decision to re-shore.
Guy Douetil continued: "The applications of 3D printing now span multiple industries, the technology is already being utilised by companies such as Ideal Automotive and Hopi. As well as offering masses of potential for the spare parts industry, especially in terms of reducing warehousing space requirements, as the cost of 3D printers reduces, there is also potential for small and medium sized business to exploit the benefits of this technology.
"We expect more businesses to assume a 'best-shoring' approach to their supply chains, resulting in less demand for manufacturing facilities in foreign markets, the demand for space in local markets will be offset by the space-saving benefits provided by technological advances. It is likely, however, that as more automated manufacturing processes are adopted, fit-out requirements will become more rudimentary as companies make cost savings by reducing heating and lighting facilities in areas where processes are undertaken by robotics."
ABOUT COLLIERS INTERNATIONAL
Colliers International is a global leader in commercial real estate services, with over 15,800 professionals operating out of more than 485 offices in 63 countries. A subsidiary of FirstService Corporation, Colliers International delivers a full range of services to real estate users, owners and investors worldwide, including global corporate solutions, brokerage, property and asset management, hotel investment sales and consulting, valuation, consulting and appraisal services, mortgage banking and insightful research. The latest annual survey by the Lipsey Company ranked Colliers International as the second-most recognized commercial real estate firm in the world.
In EMEA Colliers is headquartered in London, and our clients benefit from the experience and expertise of more than 2,300 specialists throughout 37 countries in the region. For the latest international news from Colliers International, visit colliers.com/news or follow us on Twitter: @Colliers_EMEA
Featured Product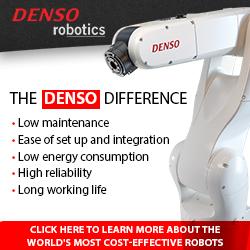 DENSO is the world's largest manufacturer - and user - of small assembly robots, employing over 17,000 of its robots in its own facilities. Over 77,000 additional DENSO robots are used by other companies worldwide. The compact, high-speed robots are used in traditional manufacturing sectors, as well as in advanced-technology applications in the medical, pharmaceutical and life sciences industries. Learn more about DENSO Robotics