ITT offers highly engineered cylinders and actuators designed for the packaging industry
PACK EXPO

ORCHARD PARK, N.Y.---ITT Corporation (NYSE:ITT) and its Enidine, Compact Automation and Turn-Act brands will showcase a complete portfolio of customized and reliable motion control solutions for the global automation marketplace at PACK EXPO International 2014 on Nov. 2-5. During the event, ITT's Compact Automation brand will highlight two specialty product lines with adaptable designs to fit any application requirement.
"Our knowledge and expertise of the packaging industry combined with our ability to customize and modify standard product designs, positions us as a unique design and manufacturing partner for the automation market," said Jeff Weisbeck, vice president of sales for ITT's Control Technologies business. "At ITT, we have the capacity to meet challenging application requirements, delivering customized, highly engineered solutions."
Compact Automation's inch/metric cylinders, slides and precision glides are created with food/medical grade materials, allowing these products to comply with the requirements of nearly any packaging application. With more than 50,000 files of modified or special cylinder designs, Compact Automation's inch series products are easily modified to meet any customer's needs.
Compact Automation is also showcasing its latest line of work-holding actuators for clamping, cutting and providing air-over-oil pressure intensification in specialty packaging applications. Compact's diverse line of pneumatic grippers, intensifiers, twist cylinders, collet closers and pin-act cylinders can be custom engineered to fit tight space or weight requirements.
Representatives from ITT's family of brands will be available for meetings at booth number 10010 during the PACK EXPO show.
For more information regarding ITT's packaging industry solutions, please visit: http://www.ittcontroltech.com/
About ITT
ITT is a focused multi-industrial company that designs and manufactures highly engineered critical components and customized technology solutions. Our customers in the energy, transportation and industrial markets depend on us to solve their most critical problems, and we focus on partnering with them to find solutions to their unique challenges. With its strong Enidine, Compact Automation and Turn-Act portfolios, ITT is a leader in serving customers in industrial end markets. Founded in 1920, ITT is headquartered in White Plains, N.Y., with employees in more than 35 countries. The company has sales in approximately 125 countries and generated 2013 revenues of $2.5 billion.
Featured Product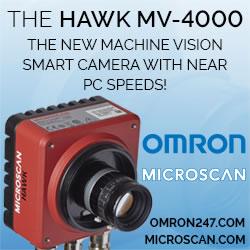 Awe-inspiring power and superior flexibility is sheathed within the contoured casing of the HAWK MV-4000. This smart camera builds upon the previous generation by quadrupling processing power and achieving real-time trigger response using an FPGA. Its state-of-the-art algorithms make it an excellent tool for any industry, whether the requirement be code reading, code verification, inspection, guidance, gauging or a combination of all four.