Visit www.inside3dprinting.com/santa-clara for further information
Inside 3D Printing Conference and Expo is returning to Northern California next week, and they've just announced that Jeff Kowalski, Senior Vice President and Chief Technology Officer at Autodesk, will be featuring Autodesk's latest 3D printing and design software during the event on October 21-23, 2014 in Santa Clara.

Kowalski will also discuss his predictions about the future of how things are made with an emphasis on how widespread access to 3D design and fabrication technology is disrupting industries of all kinds.
The event will cover a wide range of 3D subjects including tracks focusing on aerospace, architecture, art, business and investment, education, fashion, food, law and intellectual property, medical, maker, manufacturing, software, and technical aspects of 3D printing.
Ticket prices will increase on site, so attendees are encouraged to register before October 21 for the best rate. Group discounts are available for 2+ attendees from the same organization.
Keynote addresses have been confirmed by:
*Chris Anderson, CEO of 3D Robotics and Founder of DIY Drones
*Keith Murphy, Chairman and CEO of Organovo
*Jeff Kowalski, Senior Vice President, Chief Technology Officer, Autodesk
*Terry Wohlers, Founder, Principal Consultant and President, Wohlers Associates, Inc.
With such a wide range of tracks and topics relating to 3D printing, you won't want to miss this exciting event!
Interested in attending? Get 10% OFF Gold and Silver Passports with code ROBO. Register today!
Featured Product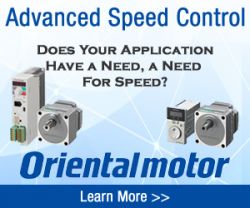 The BLE2 Series replaces our popular BLE Series and continues our brushless motor advantages by featuring an all new compact, high-power and high-efficiency brushless DC motor combined with a Driver that can be digitally set and controlled via external DC voltage or by the front panel. The BLE2 Series can easily compete with larger 3-phase inverter driven motors in many more applications, with built-in simple holding torque function, saving space and increasing performance thanks to the advantages of a brushless motor design. The BLE2 Series has a maximum speed of 4000 r/min, achieving a speed ratio of 1:50 (80 to 4000 r/min). The new motor structure is small than previous models and enables high power and high efficiency while incorporating easy setting, installation and wiring. The new motor connector offers IP66 degree of protection and allows for easy and direct connection between motor and driver with two available orientation of cable outlet direction. Standardized use of stain