Integrated system – from infeed conveyor to case packers to accumulation conveyors to robotic palletizer – demonstrates how customers can achieve faster startup and better overall performance with single source provider; see it at Brenton Pack Expo Booth N-5427.
Alexandria, MN October 24, 2014

Pro Mach highlights at Pack Expo 2014 in Chicago, November 2-5, the advantages of working with a company that not only supplies state-of-the-art packaging machines, but also provides a one-stop-shop for integrating an extensive range of solutions from sister companies into a unified, high throughput end-of-line packaging solution. (Brenton Pack Expo Booth # N-5427)
The integrated case packing/palletizing system at Pack Expo includes packaging solutions from such Pro Mach businesses as Brenton, Currie by Brenton, Edson, KLEENLine, Shuttleworth, and Tekkra. This demonstration system recreates a packaging environment in which multiple SKUs in mixed shipping containers are loaded and shipped on a single pallet. The integrated system demonstrates, among other things, how a whole new approach to robotic palletizing can stabilize potentially unstable loads of mixed shipping containers.
RSC Cases and Shrink Wrapped Trays on One Pallet
Matrix, powered by Pro Mach, Pack Expo Booth # N 5321, will utilize a Toyo Jidoki TT-15CW-10 to fill liquid into and cap premade spouted pouches and a Matrix Morpheus box-continuous-motion bagger will form-fill-seal pillow bags of candy. The candy packed bags will be loaded into a new Edson servo controlled Raptor top load case packer for placement in RSC cases. The spouted pouches filled with liquid will be loaded onto a KLEENline infeed conveyor and packed into trays by a BrentonPro Mach-2 side load flexible case packer. Then a Tekkra system shrink-wraps the trays.
Both the RSC cases and shrink-wrapped trays are routed to a Currie by Brenton MasterPal palletizer via two Shuttleworth accumulation conveyors. While one layer of cases or trays accumulates, the other layer is loaded onto the pallet, creating alternating layers of RSC cases and shrink-wrapped trays. This alternating line approach maximizes palletizing efficiency. The patented MasterPal loads and unloads full layers of product at up to five layers per minute. MasterPal provides consistent tight layer grids of palletized product through a unique "cradle and place" technology to gently handle full layers of product with each motion. The tight-grid capabilities of the MasterPal will be showcased through the alternating layers of RSC cases and shrink-wrapped trays.
"The benefit of using Pro Mach for end-of-line solutions is that we integrate other Pro Mach division equipment as well as customer specified equipment to provide one point of contact for sales and project management," said Devan Hutchens, Senior Project Manager, Brenton, who led the team that assembled and integrated the Pack Expo system. "We bring the equipment into the Brenton Center for Engineering and Manufacturing Excellence, set it up, and test it as a fully integrated system. This creates a seamless factory acceptance test because at the Brenton Center, customers focus on how the system meets their need rather than on pieces and parts of the solution."
For more information on Pro Mach end-of-line integrated packaging solutions, call 800-535-2730 and visit http://www.brentonengineering.com.
About Brenton
Brenton designs, manufactures, and integrates a wide range of end-of-line packaging equipment. Brenton is a packaging industry leader in servo-technology applications and integrating automated solutions for complex packaging needs. The companys extensive product line includes case packers, shrink wrappers, palletizers, and robotic solutions for most end-of-line packaging and material handling needs. Brenton is one of the largest providers of Fanuc robotic packaging systems in North America. All Brenton products are designed and manufactured at their state-of-the-art facilities in Minnesota.
About Pro Mach
Pro Mach is a leading provider of integrated packaging and processing products and solutions for food, beverage, consumer goods, pharmaceutical, and other diverse companies. Through its brands, Pro Mach provides product packaging and processing equipment, PMMI certified training, installation, parts, and service in Bottling & Capping, Primary Packaging, Flexible Packaging, Material Handling, Identification & Tracking, and End-of-Line Packaging.
Pro Mach has a diverse customer base, from Fortune 500 companies to smaller, privately-held businesses worldwide, which depend on reliable, flexible, technologically advanced equipment and integrated solution sets. Pro Mach is headquartered near Cincinnati, Ohio, with manufacturing facilities and offices throughout the United States, Canada, and Europe. For more information about Pro Mach, visit http://www.ProMachInc.com.
Featured Product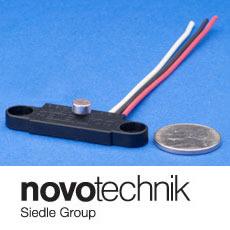 Vert-X 05E Series of dual angle/speed sensors. The series features easy mounting in small and narrow spaces with a 5 mm body depth and mounting flanges with metal inserts. The sensors make measurements only 6 mm from edge of product for close-to-wall measurement applications. Vert-X 05E Series sensors measure angles from 0 to 360°, rotational speed and direction with repeatability to 0.1°.