Hardcotton's much anticipated Kickstarter campaign for their revolutionary pressure controlled stereolithography (SLA) 3D printer is set to launch next week.
Hailed as one of the biggest innovations seen from the consumer side of the SLA 3D printer market, Elemental is a desktop SLA 3D printer with a difference. Like other SLA printers, Elemental utilises a laser system to cure photosensitive resins. Unlike other SLA printers though, Elemental uses a pressure control system to control resin levels when an object is being built.

Scott Pobihun, Hardcotton Co-founder and CEO said "Elemental achieves high quality 3D prints at an affordable price. Early supporters of our campaign will be able to secure their very own Elemental for less than $1000 (AUD)."
Elemental—key points: • Simple design that is attractive and functional • Multiple printing modes with resin only or resin suspension • Quiet when printing and simple to use • Minimal calibration required • Patent pending technology • Reduced dependency on support structures
This revolutionary technology fills the gap between low-end hobbyist machines with limited resolution and high-end printers that cost tens of thousands of dollars.
System specification: • Very large build area for SLA - up to 200mm x 200mm x 200mm (7.87in x 7.87in x 7.87in) • Z control accurate to 1 micron • 24-bit XY control resolution (variable through software) • Variable output 405nm laser • Pressure control of layer height
A high quality 3D printer capable of being mass produced
No longer limited to low-end FDM machines, users can now affordably print parts with the complex geometries and intricate detail necessary for professional quality design and digital fabrication.
"Whilst Elemental will be attractive to consumers, it will also be attractive to industry and is the ideal device to sit on desks and workstations everywhere" says Pobihun.
Hardcotton is turning to the crowdfunding platform Kickstarter to finance full production. Pobihun also said "A sizeable campaign goal has been chosen so as to distribute the significant set up costs involved in the manufacture of Elemental across a larger number of pledged units. Our purpose behind manufacturing Elemental by mass production is to keep the pledge point values as reasonable as possible."
Elemental has been designed from the ground up to enhance the creativity of individuals, so it is only appropriate that early adopters are the key to launching this revolutionary printer.
About Hardcotton:
Hardcotton is an Australian startup founded in Canberra, Australia. The company is focused on developing ground breaking technology for 3D printing, that makes 3D printing simple, easy and affordable for everyone.
To be notified when the Kickstarter campaign goes live - register at hardcotton.com.au or connect through social media:
Facebook
Twitter
Googleplus
LinkedIn
Featured Product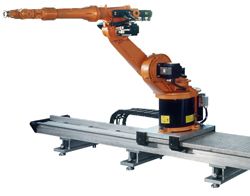 IPR Robotics offers a wide range of servo-driven 7th axis linear rails for industrial robots. These rails come in ten different sizes and are constructed from modular high strength extruded aluminum sections to handle payloads of 100 kg to 1600 kg or from steel to handle 2000 kg payloads. This variety of rail sizes allows each application to be sized correctly, controlling the space required and the price point. The drive train design of these rails utilizes helical gear-racks and is proven over 10 years to be repeatable and reliable, even in tough foundry applications.