A new metal construction and prototyping set with a unique single-connector mechanism allows makers to create sophisticated structures and automated machines quickly and accurately. (see pre-launch video at uberblox.com)
Toronto, ON November 13, 2014

A new modular construction and automation system called UberBlox is set to launch a Kickstarter campaign in a few weeks.
UberBlox is a metal construction set that gives makers the chance to create complex structures and machines with ease. At the heart of the system is a new single-connector locking mechanism, which uses a common small tool to quickly and precisely lock each block to the next. The firmly connected blocks provide accurate, strong and rigid frames for a wide variety of different structures and machines.
In addition to the basic blocks, the UberBlox system includes a varied catalog of compatible and reconfigurable parts, with new elements being added on a regular basis. These additional elements include moving components, sub-assemblies, motors, electronics and controllers, giving makers the ability to create some impressive machines such as 3D printers, CNC machines and various forms of robots as their knowledge and understanding of the UberBlox system increases. With so many different configurations and elements to try, and a growing number of kits, the system is designed to have long term appeal to those who use it.
While the UberBlox system is currently not available to the public, the Kickstarter campaign that is being launched aims to change this. The Kickstarter platform enables both businesses and individuals to seek funding for creative projects online. The creator of each project sets a funding goal and a deadline, while members of the public can pledge money to see the project come to life. If the project reaches its funding goal, the creator will receive the funds to make it happen.
The creative nature of the UberBlox concept makes this new construction system an ideal project for Kickstarter.
"We believe the time is right to bring a sophisticated high-quality construction system and prototyping set, backed by great support and community engagement, to makers of all levels," said UberBlox founder Alex Pirseyedi.
For more information about UberBlox, and to watch a pre-launch video, visit their website at http://uberblox.com.
Featured Product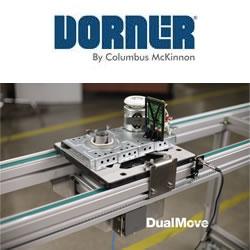 Dorner's 2200 Series Precision Move Pallet Systems are ideal for assembly automation. With features such as an innovative timing belt conveyor design and industry best pallet transfers, they get your product to the exact location, at the exact time and in the exact position it needs to be. They are now available with new options such as heavy load corner modules with 150 lb. capacity and 180 degree tight transfer corners for compact loops.