Atlas Scientific, a Brooklyn, New York based company specializing in sensors for robots and drones, is pleased to announce the release of the worlds smallest and most versatile chemical sensing computers. These devices (available January 2015) will be manufactured and distributed worldwide at Atlas Scientifics Brooklyn, New York facility.
Brooklyn, NY December 09, 2014

Atlas Scientifics new line of chemical sensing micro-computers now gives robots and drones laboratory grade chemical sensing capabilities for as little as $6.00.
After years of development, Atlas Scientific is now able to give robots and drones the chemical sensing capabilities previously only found in laboratories. These new micro-computers measure just 11mm X 11mm and meet, or exceed the capabilities of their benchtop counterparts. This breakthrough not only miniaturizes the previously bulky technology, it also miniaturizes the price; from hundreds, or thousands of dollars per unit, down to as little as $6.00 per unit.
Atlas Scientific CEO, Jordan Press says, "This seemingly innocuous breakthrough is actually a critical pillar of the robotics revolution that is slowly taking shape. No matter how much processing power is available, or how smart Siri is, you will never have real robots without advanced sensors."
Atlas Scientific has a long track record of releasing high end sensing technology for robots and drones. These new sensors (for which multiple patents have been filed) are the natural progression and a critical part of the robotic evolution.
To learn more about the robotics company Atlas Scientific visit http://www.Atlas-Scientific.com
Featured Product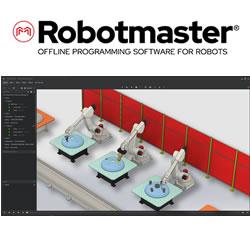 Robotmaster delivers unmatched, full-function off-line programming capability for robots - easy programming of precise robot motion control and quick generation of path trajectories of any size, with minimal programmer intervention. Our strong background in CAD/CAM (Computer Aided Manufacturing) software has enabled us to bring a revolutionary approach to programming industrial robots.