Installation of the machining center is slated for the first quarter of 2015.
ANN ARBOR, MICHIGAN. Güdel, Inc. is investing several million dollars on a custom bridge mill designed specifically for machining TrackMotion and gantry modules built in the US. Installation of the machining center is slated for the first quarter of 2015.

With a bed that measures 16 meters long by 1.5 meters wide, the new machining center is ideal for milling Güdels longest beams. Additionally, it has the ability to machine three faces and both ends of a beam in one setup which, compared to standard bridge mills, is a significant advantage for throughput and time savings.
According to Güdels CEO, Stefan Nilsson, "This is a strategic investment by Güdel. This new machining center increases our capacity and improves throughput as North American demand for TrackMotion and gantry robots increases."
The machining center has a moving portal bridge and is equipped with an automatic tool changer for 40 tools. The machine uses a Heidenhain iTNC530 HSCI contouring control for milling, drilling and machining. Two similar units are already operational at Güdel world headquarters.
About Güdel Inc.
Güdel Inc. is the US subsidiary of Güdel Group, a global manufacturer of robotic automation products, systems and services for welding and metal fabrication. Güdel supplies linear motion modules, robot track motion units, gantry robots and components to OEMs, systems integrators and machine builders serving the automotive, aerospace, logistics, heavy industrial and power generation industries. Güdel Inc. is headquartered in Ann Arbor, Michigan with 45,000 square feet in dedicated manufacturing space, providing North American customers with engineering, design, production, and, customer service support.
Featured Product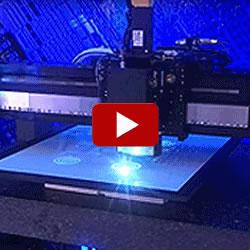 Hexapod micro-motion robots are based on a very flexible concept that can easily solve complex motion and alignment problems in fields including Optics, Photonics, Precision Automation, Automotive, and Medical Engineering.