New Investors GE Ventures and Goldman Sachs Bring Cumulative Investment to $100 Million
BOSTON, MA, January 8, 2015 — Rethink Robotics today announced $26.6 million in Series D financing, led by GE Ventures, with additional participation from Goldman Sachs, both new investors. All of Rethink Robotics earlier investors are also participating in the round, including Bezos Expeditions, CRV, Highland Capital Partners, Sigma Partners, Draper Fisher Jurvetson, and Two Sigma Ventures. The funding will be used to support the companys continued innovation, growth, and international expansion, and reflects Rethink Robotics position as a leader in the emerging market of collaborative robotics. This new investment brings the companys total funding to more than $100 million since its founding in 2008.

"Our customers are building the factories of the future, and our technologies have become an important part of their efforts," said Scott Eckert, President and CEO at Rethink Robotics. "Our new and existing investors recognize the enormous market potential for smart, collaborative robots in manufacturing, and they share our vision for driving ongoing product innovation, volume deployments and continued expansion into global markets."
GE Ventures is the venture capital arm of General Electric, one of the largest and most iconic manufacturing companies in the world. Goldman Sachs is a recognized leader in the financial services and investment banking industry. As investors, these companies add to the credibility and leadership of Rethink Robotics portfolio of Tier 1 capital partners, and continue to validate the companys mission to advance the collaborative robotics marketplace. Rethink Robotics is widely credited with creating the market for interactive, easy-to-train robots that safely work side-by-side with human coworkers. The growing worldwide demand for collaborative robots like Baxter shows that manufacturers of all sizes, and across many industries, are looking for flexible solutions for the 95 percent of production tasks that cannot be effectively automated by traditional technologies.
According to Sue Siegel, CEO GE Ventures, "Advanced manufacturing is an important area of focus for GE, both as an investor and a manufacturer. As an innovator in the field of collaborative robotics, Rethink Robotics is paving the way for a new era of manufacturing in which robots work safely alongside humans, providing new opportunities for manufacturers to improve their production processes."
"The business of manufacturing is changing more rapidly today than at any time in recent history, and Rethink Robotics is at the forefront of that transformation," said George Lee, co-chairman of the global technology, media and telecom group and chief information officer for the investment banking division of Goldman Sachs. "Smart, collaborative robotics have proven to be a significant and disruptive technology. With a differentiated solution set, an innovative software platform and a forward-thinking product roadmap, Rethink Robotics is well positioned to lead this industry for many years to come."
To learn more about Rethink Robotics, please visit www.rethinkrobotics.com.
Rethink Robotics, Inc. helps manufacturers meet the challenges of an agile economy with an integrated workforce, combining trainable, safe and cost-effective robots with skilled labor. Its Baxter robot, driven by Intera, an advanced software platform, gives world-class manufacturers and distributors in automotive, plastics, consumer goods, electronics and more, a workforce multiplier that optimizes labor. With Rethink Robotics, manufacturers increase flexibility, lower costs and can invest in skilled labor—all advantages in fueling continuous innovation and sustainable competitive advantage.
Committed to accelerating robotics innovation in manufacturing and beyond, Rethink Robotics Baxter Research Robot gives academic and corporate research environments a humanoid robot platform with integrated sensors and an open software development kit for creating custom applications.
Based in Boston, Massachusetts, the company is funded by GE Ventures, Goldman Sachs, Bezos Expeditions, CRV, Highland Capital Partners, Sigma Partners, Draper Fisher Jurvetson, and Two Sigma Ventures. For more information about Rethink Robotics, please visit www.rethinkrobotics.com.
About GE Ventures:
GE Ventures is committed to identifying, scaling and accelerating ideas that will make the world work better. Focused on the areas of software, advanced manufacturing, energy and healthcare, GE Ventures helps entrepreneurs and start-ups succeed by providing access to GEs technical expertise, capital and opportunities for commercialization through GEs global network of business, customers and partners. GE Ventures offers an unparalleled level of resources through its Global Research Center, including: 35,000 engineers; 5,000 research scientists; 8,000 software professionals; as well as 40,000 sales, marketing and development resources in over 100 countries. For more information, please visit www.geventures.com.
About Goldman Sachs:
The Goldman Sachs Group, Inc. is a leading global investment banking, securities and investment management firm that provides a wide range of financial services to a substantial and diversified client base that includes corporations, financial institutions, governments and high-net-worth individuals. Founded in 1869, the firm is headquartered in New York and maintains offices in all major financial centers around the world.
Featured Product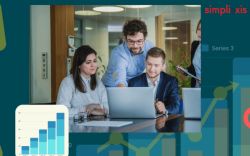 Challenges on the loading dock are characteristic of greater pressures from the rise of e-commerce. Loading and unloading freight from trailers, trucks and shipping containers are arduous, repetitive tasks plagued by high turnover. Even with regularly available staff, manually unloading freight and the constant lifting and twisting results in fatigue and inconsistent, declining productivity. Robotics capable of fully automating unloading tasks bring a new paradigm to the dock. High performance and flexibility push unloading from a labor-heavy, manual chore to an automated, refined process. High-performing DC workers can take more desirable positions, with relief from unpleasant work conditions. Management gets to replace uncertainty and staffing challenges with a reliable, automated process, with data to fuel continuous improvement.