Robotic camera mount tracks, films and zooms in and out automatically to capture your every movement
PARIS, FRANCE February 12, 2015

Move 'N See has launched its Indiegogo crowdfunding campaign for Pixio, the world's first indoor and outdoor robotic camera mount that automatically tracks, films and zooms in and out to record your every movement, all without the assistance of a cameraman.
Pixio's trademarked technology links a tracking bracelet worn by the subject to its motorized camera mount. As the subject moves, Pixio keeps the camera focused on the subject by turning the camera and controlling the zoom level. Unlike similar products, Pixio does not rely on GPS technology, and is therefore completely functional indoors : Indoor equestrian events, theater rehearsals, convention events, indoor sports. With an up to 100 meters tracking distance and its 360° endless rotation mount, Pixio can easily be used for any sport or live event (indoor or outdoor) for filming or training purposes.
"Pixio makes video filming easy, by automatically tracking the action. We believe that Pixio will revolutionize the recording of sports, cultural and speaking events." Eric Willemenot, Move'N See Founder
Pixio is available through an Indiegogo crowdfunding campaign starting at $499, a $250 savings off its suggested retail price. The campaign has already raised $42,000 of its $50,000 first goal and will end on February 19th, 2015. More information on the crowdfunding offers is available on Indiegogo at the link below.
Resources :
Press Kit, Videos and Hi-Res Images: http://bit.ly/pixiopresskit
Indiegogo Campaign: http://bit.ly/pixioindiegogo
About Pixio :
Move 'N See is a French startup located near Brest, France, founded by Eric Willemenot in 2011, with the goal of increasing the ease-of-use of video in sports. The Pixio Personal Cameraman follows on the success of the E-Fullmotion robotic mount created in 2012.
Featured Product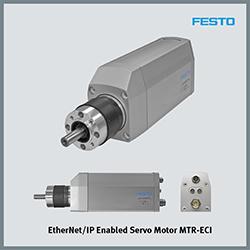 Mechatronic Motion Solutions from Festo is a unique system of components, modules, and software. It integrates all types of pneumatic, servopneumatic and (electro)mechanical automation motion and combines them according to your task. Irrespective of the control system environment you use, Mechatronic Motion Solutions always provides the appropriate interfaces. The fingers can be actively moved and their strength amplified; the operator's hand movements are registered and transmitted to the robotic hand in real time. The objectives are to enhance the strength and endurance of the human hand, to extend humans' scope of action and to secure them an independent lifestyle even at an advanced age.