Products in the piCOMPACT range are smaller and lighter than conventional ejectors, reducing the total weight of vacuum handling systems.
Hingham, MA - Piab introduces two important new product options for the piCOMPACT range, the first manifold-mounted and functional ejector system on the market based on the energy-efficient COAX technology.

The first is an industry-standard M8 6-pin connection option. This robust threaded connection allows more pull force on the connection. This is suitable for moving and vibrating applications, such as robotic applications. The second option is an air valve with "clean room" housing. Virtually no air or particles will leak from the unit if exhaust air is piped away. The unit can manage higher cleanroom requirements (higher ISO class) and can be used in rooms that have those requirements such as ISO 14644 Standards.
Products in the piCOMPACT range are smaller and lighter than conventional ejectors, reducing the total weight of vacuum handling systems. This innovative design allows vacuum systems to move more quickly to increase production capacity.
The piCOMPACT vacuum ejectors are available in a broad selection to fit with a variety of systems, including those that require very low feed pressure or extra deep vacuum levels. In addition, the compact ejectors can be easily integrated into existing production lines with no modifications required, and can be quickly configured to meet individual manufacturing needs.
About Piab
Established in 1951, Piab designs innovative vacuum solutions that improve the energy-efficiency, productivity, and working environments of vacuum users around the world. As a reliable partner to many of the world's largest manufacturers, Piab develops and manufactures a complete line of vacuum pumps, vacuum accessories, vacuum conveyors and suction cups for a variety of automated material handling and factory automation processes. Piab utilizes COAX, a completely new dimension in vacuum technology, in many of its original products and solutions. COAX cartridges are smaller, more energy efficient and more reliable than conventional ejectors, and can be integrated directly into machinery. This allows for the design of a flexible, modular vacuum system. Piab is a worldwide organization with subsidiaries and distributors in almost 70 countries. Its headquarters are in Sweden. For more information about Piab vacuum solutions for a diverse range of applications, visit www.piab.com.
Featured Product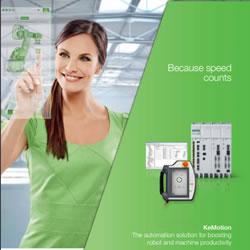 Best ergonomics and an intuitive user interface are key factors for efficient operation and monitoring. With the KeTop devices, high-performance, application-optimized hardware is available. The turnkey TeachView robotics user interface enables fast and easy teach-in. User-friendly HMIs are created with the easy-to-operate KeView visualization software - an optimum user experience is guaranteed.