Aerospace and defense manufacturing conference and exposition takes place April 20-23 in Dallas
DEARBORN, Mich. February 26, 2015

Aerospace and defense manufacturers are facing new challenges at a time when demand for aircraft is surging. These include stricter requirements in aerospace manufacturing performance, reduced weight of the aircraft, fuel consumption, environmental impact and other factors that are creating a need for innovation at all levels of the extended manufacturing enterprise.
AeroDef Manufacturing Conference + Exposition, April 20-23 (exhibits April 21-22) at the Hilton Anatole, Dallas, convenes the industry to discuss solutions for issues encountered throughout an aircraft's manufacturing lifecycle. The conference offers 20 technical sessions and 69 presentations from engineers, product designers and managers at industry-leading companies such as ATK Aerospace Structures, Bell Helicopter, Defense Advanced Research Projects Agency (DARPA), Dassault Systemes, Lockheed Martin Aeronautics Co., Sandvik Coromant and the Advanced Composites Group.
"AeroDef is the place for collaboration, where you can come to find integration solutions from the smartest people in the profession," said Conference Advisor Todd Szallay, who is manager, manufacturing technology, at Northrop Grumman Aerospace Systems. "Not only does AeroDef offer practical advice on manufacturing technologies, it also opens your eyes to what is possible in aerospace manufacturing."
The conference tracks are Additive Manufacturing/3D Printing; Composites & Advanced Materials; Contract Manufacturing Services; Cybersecurity; Integrated Assembly & Robotics; Precision Machining & Tooling; and Quality, Measurement & Inspection.
In addition to the technical conference, AeroDef 2015 features keynote speakers and panel discussions on the most promising technologies, including flexible manufacturing; an exposition floor arranged by seven technology zones; additive manufacturing/advanced materials resource center; and tours of regional aerospace manufacturers.
Registration for the exposition - which includes access to the exhibit floor, keynote speakers and panels, - is free of charge if you register in advance. Visit the conference section of the website for information on conference tracks and pricing. You can also visit aerodefevent.com/papers to download complimentary SME technical papers on aerospace manufacturing, including the drilling and machining of composites and advanced materials.
For more information about attending, exhibiting or presenting, visit aerodefevent.com or call 800.733.3976. For the most up-to-date details, follow @AeroDefMfg on Twitter or join the LinkedIn AeroDef discussion group.
About AeroDef Manufacturing
AeroDef Manufacturing - Collaboration for the Future of Aerospace, is the leading technical conference and exposition for the aerospace and defense manufacturing industry. Produced by SME in partnership with industry OEMs, its mission is to foster innovation across the extended enterprise to reduce costs, expedite production times and maintain U.S. competitiveness in the global economy.
About SME
SME connects all those who are passionate about making things that improve our world. As a nonprofit organization, SME has served practitioners, companies, educators, government and communities across the manufacturing spectrum for more than 80 years. Through its strategic areas of events, media, membership, training and development, and the SME Education Foundation, SME is uniquely dedicated to the advancement of manufacturing by addressing both knowledge and skill needs for the industry. Follow @sme_mfg on Twitter and facebook.com/smemfg.
Featured Product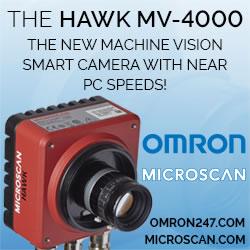 Awe-inspiring power and superior flexibility is sheathed within the contoured casing of the HAWK MV-4000. This smart camera builds upon the previous generation by quadrupling processing power and achieving real-time trigger response using an FPGA. Its state-of-the-art algorithms make it an excellent tool for any industry, whether the requirement be code reading, code verification, inspection, guidance, gauging or a combination of all four.